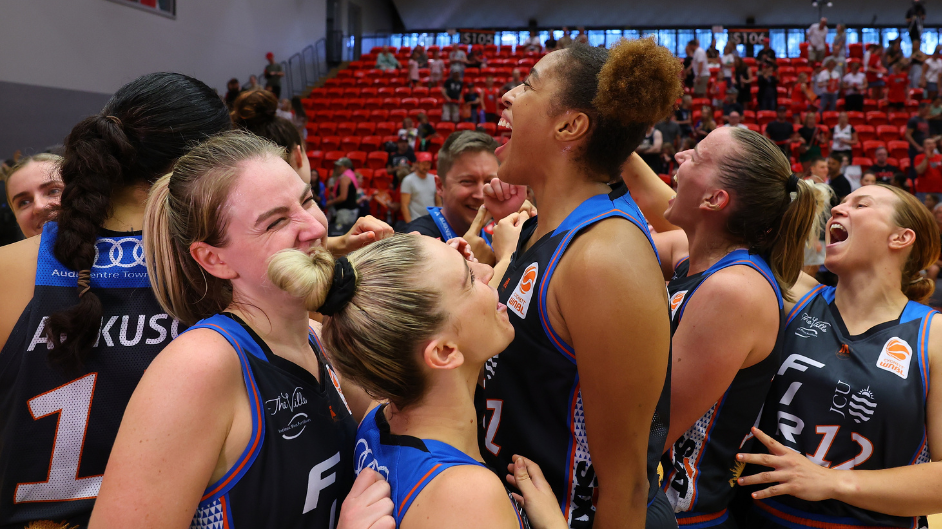 March 12, 2023 | Townsville Fire news
JCU TOWNSVILLE FIRE FIRST INTO GRAND FINAL
The JCU Townsville Fire will play a second grand final series in three seasons after advancing to the WNBL decider in straight sets. Townsville secured a fourteenth successive victory and a fifth straight over Perth in the West, to clean sweep the semi final showdown. The visitors surrendered a 16 point second half lead as the Lynx lifted, in what was a must win game for the hosts. The minor premiers regathered themselves though and showed why they're on a club record winning streak. While coach Shannon Seebohm was slightly apprehensive in the third quarter, he did a great job projecting calmness onto his side.
"Credit to Perth they were really tough, they really challenged us. I was a bit worried there for a little while but we're a resilient bunch and you know I thought we did a great job to grind that out."
The players' screams of joy at full time, could be heard over a quiet crowd at the Bendat Basketball Centre but the loudest cheer was saved for when the coach confirmed the Fire won't be training until Wednesday. "Yeah well they've been hounding me about that for a few days now and I said if we win I'll give them an extra day and obviously they did, so good on them."
Tianna Hawkins has earned extra rest. The import's played every minute of the finals so far.
"I mean every athlete loves days off, so we're looking forward to that. But no, we are looking forward to just being able to rest up a little bit and prepare for the grand final."
The Hawk's happy but far from satisfied.
"It's a good feeling, we're just a step closer to our goal."
She scored a team high 23 points, while Shyla Heal hit 12 of her 15 points in the final period, to guide Townsville to an 91-84 triumph. Lauren Nicholson knocked down five of her first six shots to rack up 13 points in the opening quarter. The captain only added one more bucket, but she dished out a game high seven assists. Mikaela Ruef shared top spot on the rebounding stats with Hawkins, her eight along with 14 points proved a pivotal contribution.
The JCU Townsville Fire has home court advantage for the best of three grand final series against either the Melbourne Boomers or Southside Flyers. Game One at the Fire Pit is on Saturday night, with tickets to go on sale Monday 13th March (10am-5pm Members only pre-sale) from 5pm to the general public. Be sure to purchase yours and of course, get an orange outfit ready!
Get your tickets here