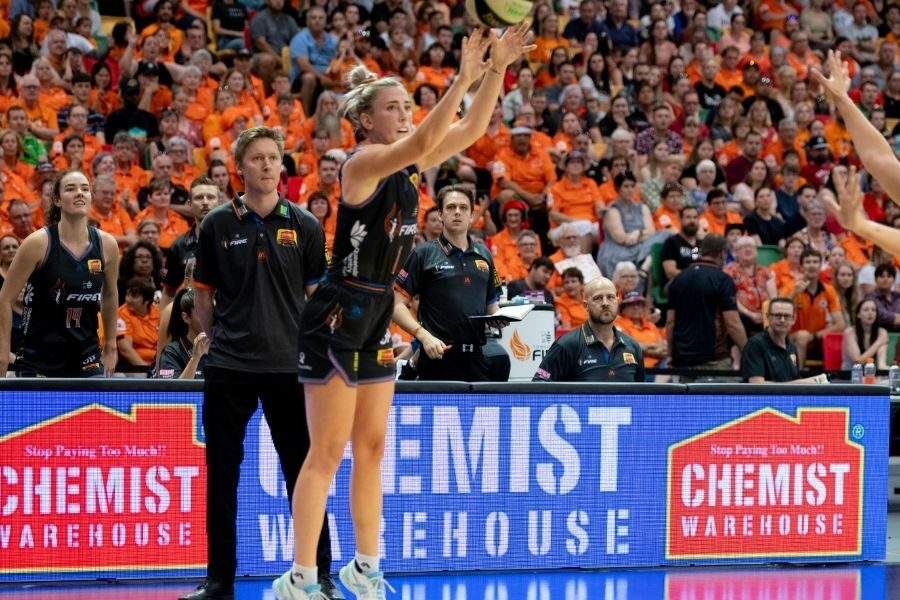 March 22, 2022 | Townsville Fire news
LAUREN Nicholson is Townsville to the core and has proven it by rejecting interest from European basketball to recommit to the Fire for another two seasons. Nicholson said her ultimate dream was to represent Australia at the
Olympics. The 28-year-old believes signing her extension with Townsville through
2024, working and developing her craft under head coach Shannon Seebohm, will give her the best possible chance of earning her ticket to Paris with the Opals.
The 2019 WNBL defensive player of the year has added some new strings to her bow already since she joined the Fire for the 2020 season.
She credited the guidance of Seebohm for her rapidly expanding playmaking skills after being pigeonholed earlier in her career as a
lockdown defender and perimeter shooter coming out of St Mary's, the Californian university that put Patty Mills and Matthew Dellavedova on the NBA radar. Seebohm's presence at the Fire was a major attraction to staying in North Queensland for Nicholson.
"I wanted to keep playing under Shannon," Nicholson said.
"I think he's the best coach in the league and I have an ultimate goal to make an Olympics so I'm going to keep playing until then. I think it's important that I'm in the best place I can be to achieve that." In Townsville Nicholson has been empowered to play her natural game with the confidence that she has the backing of staff and teammates alike.
"I think Shannon does a really good job of giving you confidence," the Australian representative said.
"He believes in my ability and the team's ability and he allows me to play how I want to play and I think that's really important.
"You can get to a point where you think you know everything you need
to know but he continues to help me grow and I feel like I'm keeping learning and getting better with him."
She said staying true to Townsville and the coach who has elevated her game was a "no-brainer" decision, despite interest from overseas clubs.
Nicholson said the thought of playing against the Fire with a WNBL rival had never crossed her mind – but the temptation of playing to packed stadiums in Europe definitely had.
"I wouldn't play for any other team in the WNBL, I love it too much here, but I did have a thought of going over to Europe.
"But as I'm getting older I've realised how much I love Australia and I love calling Townsville home now so I really wanted to stay. "I love Townsville, it's a great community here. We have a core group of players that have come back for the last couple of years. I think that's really important in making a successful team and hopefully some of these girls will stay on as well for next season."
Chief on Nicholson's extension hit list are Steph Reid and Courtney Woods, the dynamic back court duo who have led the team through a dark period of form since Christmas.
Point guard Reid's potential is sky high, Nicholson said, while the chance to form an explosive scoring back court alongside shooting guard Woods – in the vein of NBA All Stars Stephen Curry and Klay Thompson – has WNBL championship-winning potential.
"I love playing with Steph, I think she's an awesome point guard and I think she's going to be a star of the future," she said.
"I have loved playing with her this season so hopefully she'll be around, and also Courtney Woods, who plays on the wing as well.
She's got a lot of talent and she's definitely developed a lot in the last couple of seasons.
"I would love to spend a lot more time on the court with her. She's an awesome player and I really hope she stays."
The guard is still weeks away from a return to running but she has been a fixture in the team's weights room.
A program of cycling and weightlifting could hold the key to unleashing an even more explosive attacking force on the WNBL stage upon her return next season.
"I haven't left the gym in the last four weeks," Nicholson said.
"Lots of weights, lots of bike. That's the goal, to get faster and stronger and more powerful.
"So who knows, next season could be a new Lauren Nicholson."