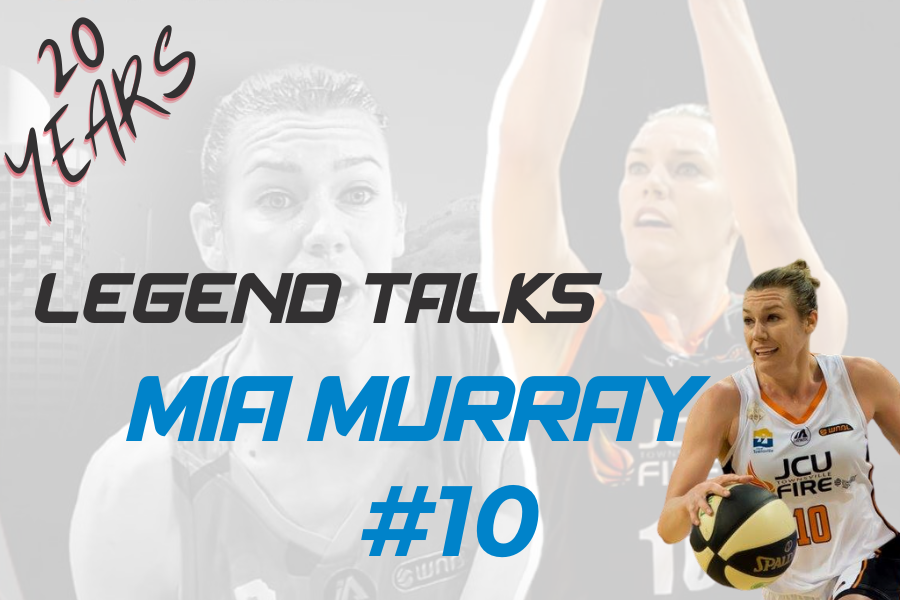 August 31, 2020 | Townsville Fire news
Mia Murray's determination and desire to educate on and off court  can be explained through her own words: "Don't sweat the small stuff."
A fair message to remember as the 2020/21 season will see the returning legend step onto the court after a two year hiatus from the WNBL.
A physically demanding feat for most, but having created a lasting legacy on the game already, Murray is primed to make an impact this season.
As a three time champion inching closer to her 300th game, Murray has learned to focus on the present and her own achievements.
"Returning to the game I can honestly say I've never felt more at ease than I do now… in my younger years I probably worried a bit too much about others or what people thought instead of narrowing that focus on myself." She said.
Since settling in Townsville from Adelaide in 2011, Murray has seen the likes of  five Grand finals, three of which have been victorious. During the 2015 championship victory against the Bendigo Fire, Murray sunk a season high 23 points at 50 percent, securing the 2015 Rachel Sporn medal (Grand Final MVP). Despite this crucial role in victory, she humbly accepts this was a club effort.
"We were recently named the team of the decade and when I think back it was a mammoth effort from a club that was on the brink of collapse particularly from a regional area."
A legacy that extends far beyond a sweat, determination and a few scuff marks on hardwood, there can be no wonder that Murray's return is highly anticipated for the JCU Townsville Fire.
Coach Shannon Seebohm is among those enthusiastic to see the impact on this year's season beginning in November.
"Mia is going to be great for our team. Not only is Mia a great player but also very professional with her approach in preparation for this season. She understands what it takes to win championships in this league and I can already see she will bring her own style of leadership to the group." He said.
With a mixture of both young and established players, Murray remains hopeful of a competitive season.Added with the ongoing COVID-19 restrictions, She also has put faith in the team's resilience adaptation to change, Maintaining focus to the ultimate end goal of adding a fourth championship to the Townsville Fire's repertoire.
Off court, Murray's resume does not shy away from her on court statistics.
Her two year absence from the league saw the completion of her education degree, working as a supply teacher, as well as becoming the assistant coach to the under 14 and 18 nationals.This paired with student and younger generation ambassador programs in the past generates astronomical achievements bound by an inspiring purpose. Perhaps her greatest accomplishment came in October 2019 with the birth of her first son Sidney.
"While I'm hugely proud of my sporting achievements and finishing a degree, I do have to say that I am most proud of my family," Murray said.
Along with her husband Max, Murray says she can't help but beam from ear to ear when talking about her own personal championship winning team.
"I have learned a lot from Max and I am so thankful for his love and support. We absolutely adore our son, he truly makes me beam from ear to ear when I talk about him… he has put a whole new perspective on life and I have a new found adoration for my own parents."
A juggling match that consistently delivers, the life of this champion is not something for the faint hearted. Yet it soars beyond something superhuman.Whether it be killer statistics, the consistent determination on the court, or her involvement in the community. Inspiration doesn't lie far from the 32 year old powerhouse.
"She is someone that other players look up to and respect and will have a big impact on our team's culture and behaviours, especially with some of her younger team mates." Coach Shannon Seebohm said.
It can be considered inevitable, despite her already stellar career, a two year hiatus proves little effect on the one track mind that only those like Mia Murray can possess.
A player of instinct, and a devoted role model to younger women of all, yet humbled by those that shaped her career.
One thing is for sure, the 2020/21 WNBL season may prove no match to a stellar sportswoman of this calibre.
Watch this space.