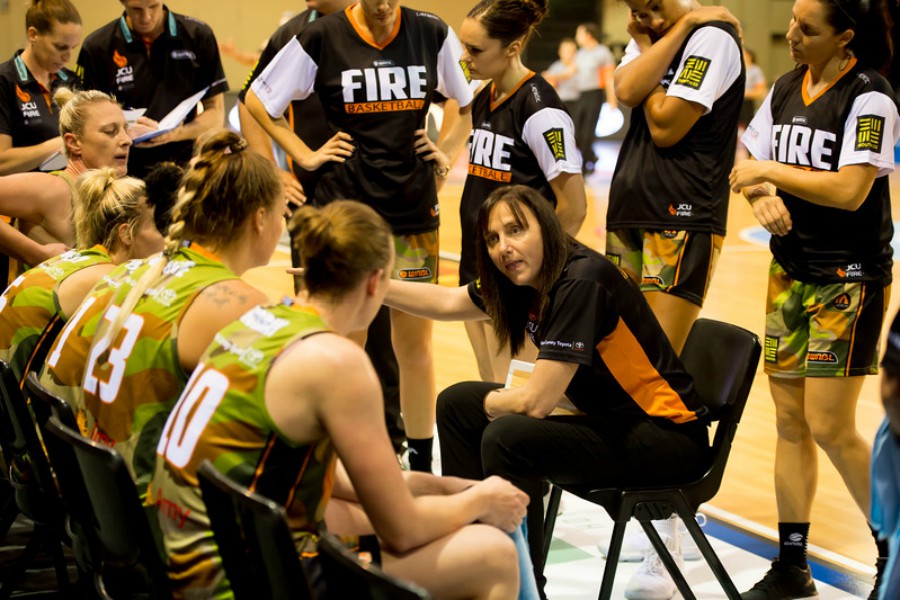 December 7, 2017 | Townsville Fire news
The JCU Townsville Fire have coughed up a 74-89 loss to Adelaide in a disappointing showing on their home floor.
Fresh off a spirited road win against Sydney Uni, the Fire were hoping to consolidate their position, but as they have down on countless occasions this season, they were jumped from the outset and failed to find a solution in the second half.
With the Lightning opening up a near double-digit lead in the first few minutes, Suzy Batkovic (25 points and 13 rebounds) and Mia Murray (12 points and five rebounds) were able to contain some of the damage as they found their offensive flow.
Another Suzy Batkovic basket – she has 9 points for the term – has the Fire trailing 15-16 late in Q1! #FireUpTownsville pic.twitter.com/Bxye0rVt6X

— JCU Townsville Fire (@TownsvilleFire) December 7, 2017
As a result, they were able to limit the damage to a single bucket at the first change and then snatched the lead shortly after as Cayla George (eight points and seven rebounds) and Darcee Garbin (seven points and four rebounds) also made their presence known in the post.
A late Lightning run handed them the lead, however, and they repeated the damage in the third quarter to devastating effect.
With scores level late in the term, the Lightning went on an 11-0 run to boast a double-digit lead at three-quarter-time.
While the Fire were able to close with seven midway through the last quarter, the Lightning again shut the door as the Fire were made to pay for their offensive woes.
"It was a disappointing loss," Fire coach Claudia Brassard said.
"Chris (Lucas) probably through some different things at us, which we failed to handle, but we can't dwell on the result.
"We have Bendigo on Saturday and we need to regather ourselves and make sure we get a win."
After a slow start, the Fire fall short against Adelaide on our home floor & will be desperate to bounce back on Saturday. @SuzyBatkovic was the First Things First MVP with 25 points, 13 rebounds, 3 blocks, 3 steals & 2 assists! #FireUpTownsville pic.twitter.com/skqA4iibq0

— JCU Townsville Fire (@TownsvilleFire) December 7, 2017
The Fire face the Spirit in Bendigo from 6pm on Saturday.
Click here to read full box scores between the Fire and the Lightning.