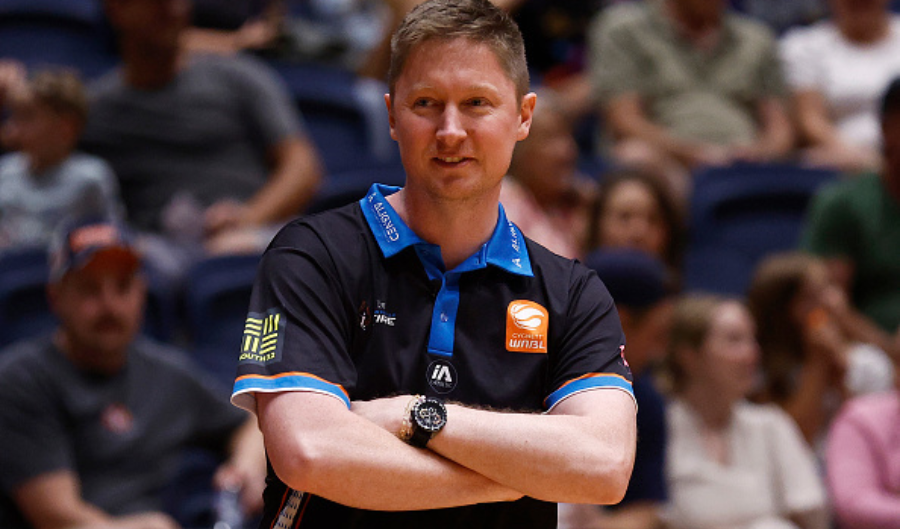 August 9, 2023 | Townsville Fire news
3 More Years
Townsville Fire Announces Contract Extension of Head Coach Shannon Seebohm for Three More Years
The Townsville Fire is thrilled to announce the contract extension of Head Coach Shannon Seebohm for an additional three years.
Under Coach Seebohm's leadership, the Townsville Fire has achieved wonderful success, including, securing it's fourth WNBL championship. His strategic brilliance, dedication, and ability to inspire players have earned him widespread recognition within the basketball community and beyond.
Seebohm's innovative coaching style and commitment to nurturing talent within the team have propelled the Townsville Fire to new heights, capturing the hearts of fans and establishing the team as one of the powerhouses within the league. His approach to the game not only focuses on the development of players' skills but also on creating a supportive and cohesive team culture that fosters growth both on and off the court.
"We are delighted to extend the contract of Coach Seebohm, who has proven time and again that he possesses the skills and vision required to lead the Townsville Fire to success," said Townsville Fire General Manager Sam Pascoe "His passion for the game, strategic acumen, and commitment to our team's values make him an invaluable asset to our organisation. We look forward to a further three years under his leadership."
Seebohm's influence is not limited solely to the results on the court. He has consistently demonstrated his commitment to the Townsville community through various outreach programs and initiatives aimed at promoting the sport and empowering youth.
Fire Chair Stephen Motti, stated
 "Shannon's  dedication to building stronger connections between the team and the local community has cemented the Townsville Fire's position as a beloved symbol of pride for the entire region, his commitment not only to the team and the club but to the whole region, makes this extension even more important."
Shannon is just as excited to be extending his time in North Queensland.
" My family and I are extremely excited to be remaining in Townsville for the foreseeable future. Townsville has become home for us, and I have absolutely loved my time coaching the Fire and being a part of this community.
 I am excited to continue to have to opportunity to build our program and work with all of our great players and staff.
 I would like to thank GM Sam Pascoe as well as our entire Townsville Fire board for their ongoing belief and support in me and my vision as coach."
The contract extension of Head Coach Shannon Seebohm is a testament to the Townsville Fire's commitment to excellence and long-term success. The club firmly believes that under Coach Seebohm's guidance, they will continue to achieve remarkable milestones. The 3 year extension takes Seebohm to the completion of 2026/27 WNBL Season.