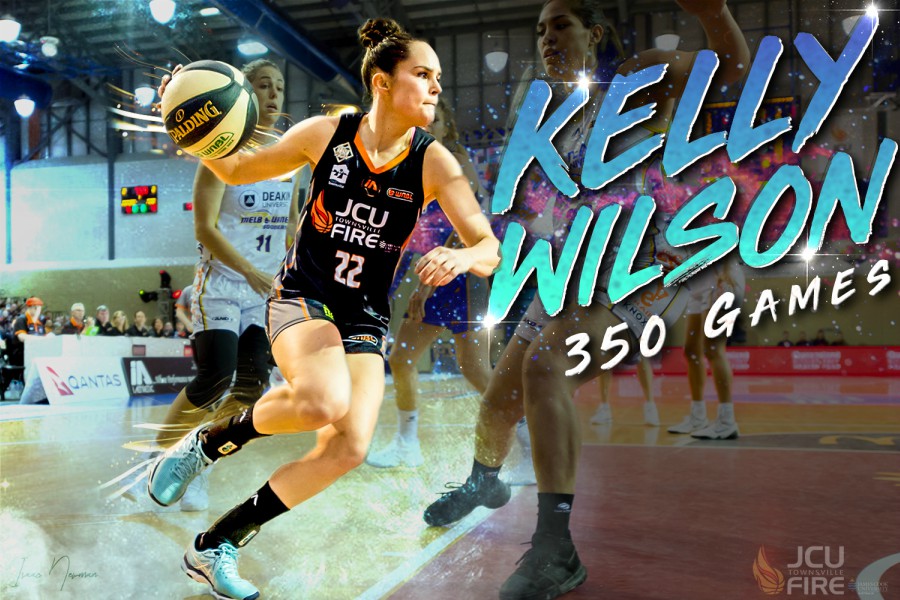 January 20, 2018 | Townsville Fire news
JCU Townsville Fire point guard Kelly Wilson will become just the ninth player in WNBL history to 350 games tomorrow as she vies for her third championship.
Having won back-to-back titles for the Bendigo Spirit, Wilson, who is now piloting the Fire after returning to the club following a lengthy absence, has enjoyed a decorated playing career including Rookie of the Year honours in 2002/03 while at the AIS.
Since then she has gone on to become one of the competition's premier playmakers and is one of just seven players to have registered 1000 career assists in the WNBL.
Throughout her stellar career, the 33-year-old averages eight points, three rebounds and three assists.
"She's been an incredible player for such a lengthy period and she continues to be so," Fire coach Claudia Brassard said.
"Whether she's been off the ball or running the team at the point, she's so dangerous.
"Additionally, she's a player that players want to play with. She's always the first at training and the last off the court.
"She sets an incredibly high standard and her teammates can do nothing more than follow her lead."
The Fire can hand Wilson a fairytale milestone tomorrow when they host Melbourne in the third and deciding game of the 2017/18 WNBL Grand Final series.
Tickets sold out in just 70 minutes for the decider, with a full-house expected to watch the game at Townsville RSL in the Spectator Sports Bar.
"It's a special milestone, but with a Grand Final to play, I can honestly say I haven't given it a second of thought," Wilson said.
"I'm sure my family is very proud of it – as I will be down the track – but I would trade it in a heartbeat to win another title.
"My entire focus is on that singular goal right now."
The JCU Townsville Fire congratulate Kelly Wilson on her 350th game.
Most games in the WNBL
Jess Bibby (394)
Lucille Bailie (377)
Rachael Sporn (377)
Karen Dalton (375)
Kristen Veal (372)
Robyn Maher (369)
Carly Wilson (363)
Jo Hill (351)
Kelly Wilson (349*)
Tracey Beatty (347)