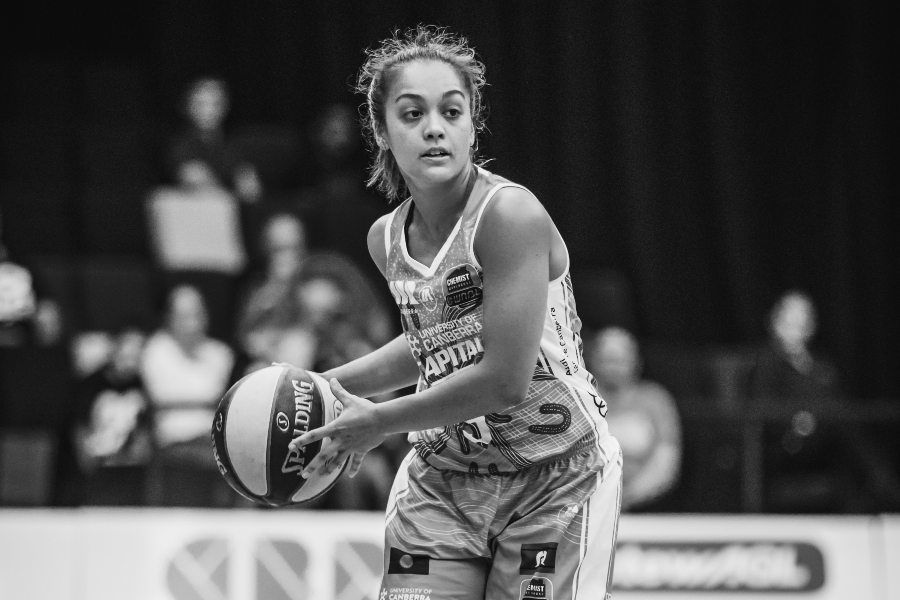 December 17, 2018 | UC Capitals news
The University of Canberra Capitals finished off their inaugural Indigenous Round on a big high after defeating the Perth Lynx in their last face-off before finals.
The UC Capitals have struggled in previous top-of-the-table clashes against Perth, but this week, while dressed in Indigenous-designed uniforms in front of their largest audience of the season, they finished with a 32-point lead.
Leilani Mitchell was on fire, giving Perth a run for their money with 22 points, 5 rebounds, 7 assists and 5 steals. Kelsey Griffin, while relatively quiet for the start of the game, came out with a banging final half and put up 27 points and 15 rebounds.
The loss was Perth's third in a row and meant that they were knocked off the top spot after maintaining it for most of the season so far.
The match also marked the UC Capitals only broadcast home game for the season and Assistant Coach and former Caps player, Carly Wilson, did a great job of commentating the game and interviewing her own team for Fox Sports.
While the victory against Perth was one of the highlights of the season so far, Round 10 also came with a significant loss on the Friday to Adelaide Lightning who finished 20 points better off.
The Capitals have struggled with away games all season, despite winning all but one at home, and will need to consider some changes as they approach a heavy travel schedule for the last third of the season.
First, though, they will take on the Dandenong Rangers at home on Friday night before a trip to Townsville to take on the Fire for the first time this season.
Dandenong have been on a winning streak after a slow start to the season and now sit fourth on the ladder, just below the UC Capitals. With the top three teams sitting within 5% of one another, these final rounds are as critical as ever.
To buy tickets to the game against Dandenong on Friday, December 21, click here.