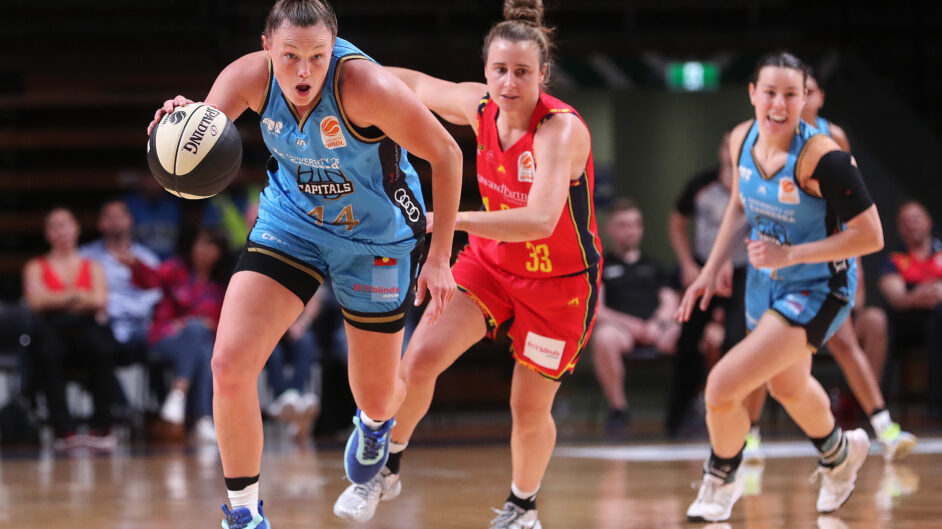 November 30, 2022 | UC Capitals news
A new import, a star guard back and a determined group of players has seen the UC Capitals put on their strongest performance of the season up against Adelaide Lightning.
Both with an illustrious playing career with the UC Capitals, it was a battle of the first time coaches and didn't their teams put on a show.
Q1
The injection of Jade Melbourne was huge for the UC Capitals as they fought for their first win of the season. Emilee Whittle-Harmon joined the starting line-up for the first time this season, and was the first Cap to get points on the board. Adelaide was quick to start landing the threes, with Cygnett donating $50 for every one, but Canberra remained composed against a star studded home side. New import Nicole Munger came on after the first timeout and showed glimpses into what the NBL1 star is capable of, after being cleared to play only hours before tip off. A composed and calm Caps closed down the margin to two points heading into the second quarter.
Q2
The UC Capitals contained Adelaide well in the second quarter, managing to take the lead 15 minutes in. Exhibiting a great defensive effort and patience in offense, the Caps looked together as a team to finish the second term five points ahead. Bunton did well to get under the rim and lead her team, with 9 points and 5 rebounds.
Q3
The UC Caps had to remain patient and not get ahead of themselves going into the second half as Adelaide started to pull momentum back their way with some clever play from Mansfield and Talbot. The Caps' bench made some huge impact with Tonks, Munger and Calleia rallying hard as the lead continued to swap hands.
Q4
Both sides came out with intensity in the fourth quarter but Adelaide found the basket first before Jade Melbourne returned service. driving up to the rim. Canberra needed some stops to prevent Adelaide from powering up again and as fatigue set in Shaneice Swain and Rae Burrell stepped up in a big way. Burrell had the game of the night, showing fight under the basket, top scoring with 20 points.
The fourth quarter started to get away from the Caps, but it was still the most improved performance from Canberra as they inch closer and closer to a well deserved win.
The final score 90-80.
The UC Capitals now have a ten day break, before a big three games back at the National Convention Centre, Canberra. Tickets or a 3-game pass can be purchased now.