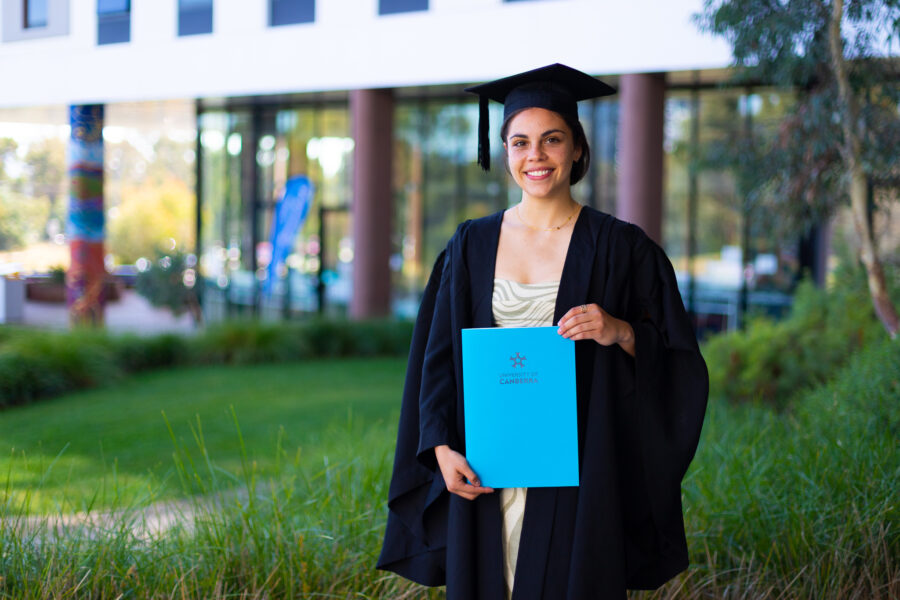 April 9, 2022 | UC Capitals news
Pursuing a professional basketball career with the training, game day and travel demands is time consuming enough, let alone trying to complete a Bachelor's degree.
But that's exactly what UC Capitals point guard Abby Cubillo achieved.
Through the Elite Athlete Program at the UC, the 22-year-old was able to pursue her budding basketball career while also completing a Bachelor of Sports Management and working part time.
"I entered into the Elite Athlete Program pretty early on when I started my degree, and UC was incredible, they really catered to my needs," Cubillo said.
"Committing so much of my time to being an athlete and working on the side as well, UC was super flexible with it just made the whole experience really enjoyable.
"I studied for three years, and it was really great. I'm really interested in working in the sporting world."
Cubillo was part of the latest cohort of students to graduate, albeit in a less than traditional way.
While she was unable to attend her graduation ceremony because she was in isolation, UC's Office of Aboriginal and Torres Strait Islander Leadership and Strategy (OATSILS) organised an opportunity for her to celebrate.
"I unfortunately was in isolation so missed my graduation but one of the ladies I met through UC, Kristen Tapine, organised for the photographer to come back and take some photos of me. Very unorthodox and not how I expected to graduate from uni but it was really special nonetheless."
During the team's isolation, a cap and gown was also delivered to her home, with a special online celebration among her teammates.