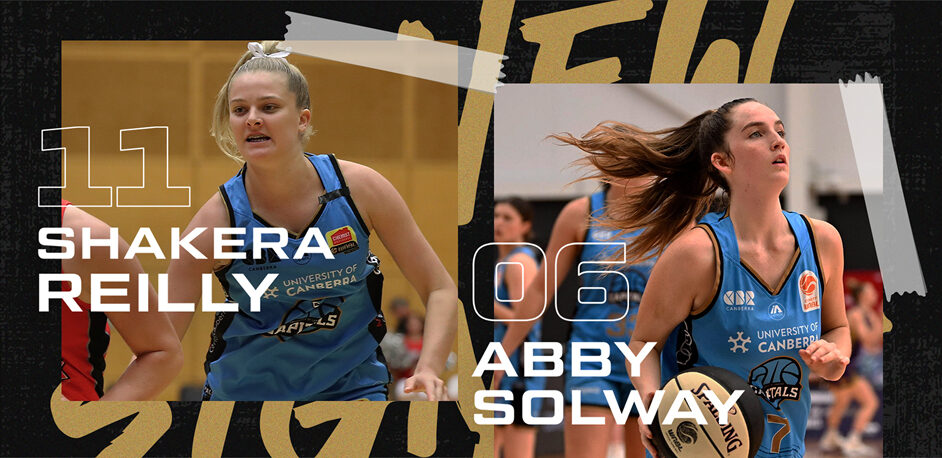 August 23, 2023 | UC Capitals news
It is with great pleasure that the UC Capitals can announce Abby Solway and Shakera Reilly are back with the UC Capitals for season 23/24.
Abby and Shakera will add depth and strength to the squad, filling two of the three development players spots available.
This will be Abby's third season with the Caps, after playing 6 games last season. She has spent the off-season with the Canberra Nationals, where she enjoyed another successful season.
"I'm super grateful to be back with the Caps," Abby said. "I've learnt a lot from being in the program over the past 2 years and I feel like I've grown as a person and a player. I am hoping to absorb as much information and knowledge as I can from Vealy and the team over the course of the season and develop my game even further. "
Shakera Reilly was part of the 2019/20 Championship winning season and re-joins after three seasons in NBL1, most recently with the Maitland Mustangs in NBL1 East.
"I am so happy to be back with the Caps and grateful for another opportunity with such an amazing club and team," Shakera said.
"In the time between signings, I have played two seasons in NBL1 South for Mount Gambier and returned home this year to NBL1 East. Off court, I have been enjoying time with my fur baby, friends and family as well as finding my passion in the fitness industry.
"I am always hoping to grow and improve on and off court as both a player and person and take on all opportunities I can when they come along and am looking forward to train alongside such amazing athletes and coaching staff and learn as much as I can from them."
Summing up the signings perfectly, Head Coach Kristen Veal said "Abby and Shak will provide continuity, depth and heart to our Caps squad this season – both have been a part of Caps programs in recent years and have not only contributed but continued to evolve as young players.
"It's important for our program to have hard working, connected players that reflect our Canberra community and both Abby and Shak are wonderful examples of that.
"I look forward to working with both of them this season and asking more of them, as we look to take big strides forward."