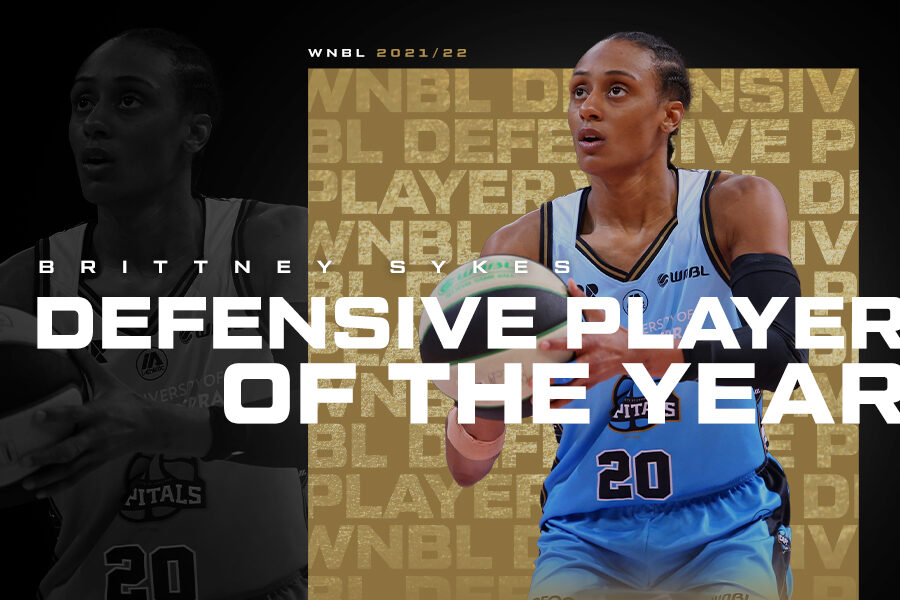 March 28, 2022 | UC Capitals news
UC Capitals' star import, Brittney Sykes, has been named the WNBL's 2021-22 Robyn Maher Defensive Player of the Year.
After being named in the 2021 WNBA All-Defensive First Team and leading steals, Sykes' defensive form was at her career-best. Claiming the WNBL Golden Hands award (steals + assists – turnovers) and averaging 5.19 over her 16 games played, the addition of a player of Sykes calibre to the UC Capitals' lineup has been a key factor to their regular-season success and run at finals.
Nominated alongside four strong competitors including the 2020 season MVP Steph Talbot, Kalani Purcell, Jackie Young and Steph Reid, Sykes topped the vote count on 30 and polled in first place on eight occasions.
"It's honestly an honour to win this award," Sykes told the WNBL Media.
"Coming into the WNBL I set a goal to be the Defensive Player of The Year in this league, especially after coming short of the award in the WNBA.
"My teammates and coaches believed in me since day one that I could accomplish this goal. I couldn't have done it without their support and trust. I'm truly thankful for this moment in my career and in the WNBL."
Tally breakdown:
Brittney Sykes: 30
Kalani Purcell: 24
Steph Talbot: 14
Jackie Young: 7
Steph Reid: 6