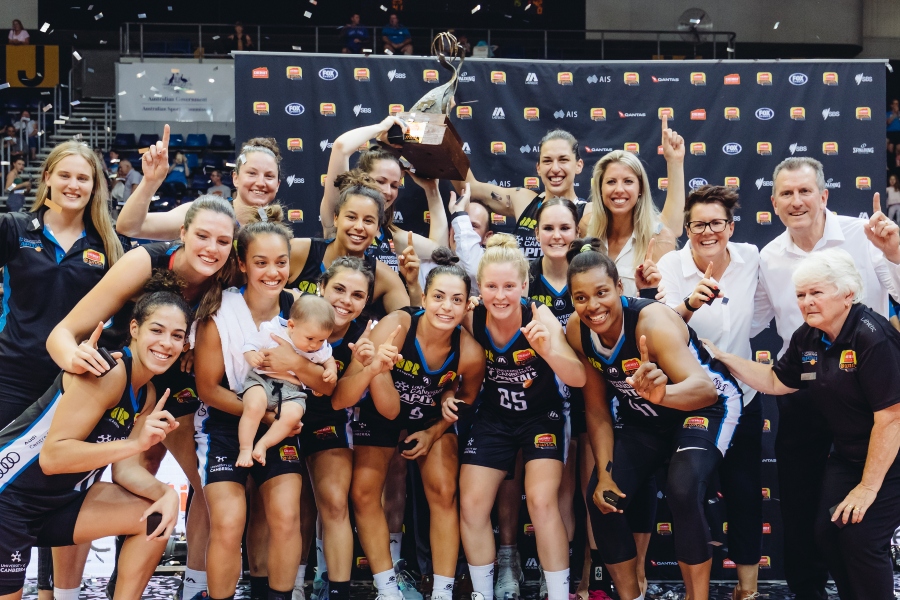 February 18, 2019 | UC Capitals news
A minute left on the clock and reality started to set in for Head Coach Paul Goriss: the UC Capitals are about to win the championship. Goriss and the bench started to huddle, arm in arm, as they counted down the seconds.
The sound of the buzzer came with a roar from the sold-out AIS Arena crowd as almost 5,000 fans stood up in excitement and emotion.
The players and staff all met on court with hugs, tears and screams of exhilaration as they acknowledged their dreams had been achieved.
The all-star starting five, Kelsey Griffin, Leilani Mitchell, Marianna Tolo, Kelly Wilson and Kia Nurse, each reached double-figures in scoring, tallying 90 of their 93 points while they shot 53% from the field and 13-22 (59%) from the three-point line.
Kelsey Griffin led the charge with a double-double of 29 points, 15 rebounds, four assists and two blocks, the guard duo of Leilani Mitchell and Kelly Wilson combined for 35 points and ten assists while Marianna Tolo added 14 points and Kia Nurse had 12 points and three assists.
The UC Capitals won the championship 93-73 in the third and final game of the WNBL Grand Final Series.
Kelsey Griffin secured the Grand Final MVP with a whopping 23 votes, an unsurprising result after her dominant performance.
Days later and the celebrations continue. To unite Canberra once more before the team part ways, the University of Canberra is generously holding a ticker tape parade on Tuesday, 19 February 3:30-4:30pm.
To register your attendance, click here.