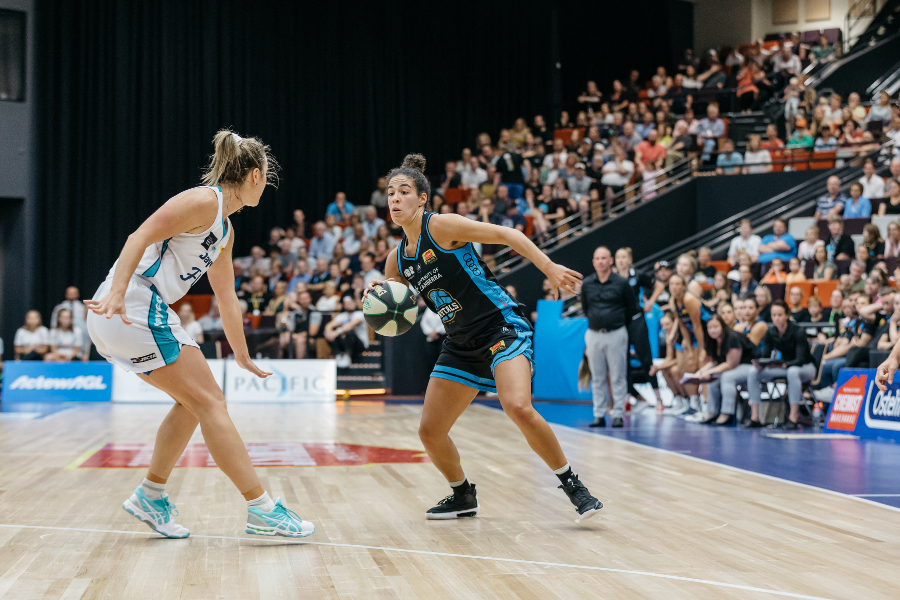 February 29, 2020 | UC Capitals news
Grand-Final Game 1:
UC Capitals V Southside Flyers
Sunday, 1 March
5pm tip-off 
Dandenong Stadium
Live stats: click here.
Watch live: Fox Sports or Kayo
—
The UC Capitals are Melbourne-bound for game one of the grand final series.
After claiming their spot in the 40th WNBL decider just days ago, the Caps have had just two days to prepare before hopping on the plane to go meet their opponents in their third game this week.
However, noting that the last time the Capitals faced such an intensive period, they went on a 4-0 run in just 10 days to revive their finals campaign.
MVP Kia Nurse said that coming off the semi-final series so soon works as a momentum-builder.
"Obviously you don't have a whole lot of time to rest – it's not like you have to wait a week to play a game which is actually kind of nice."
The Southside Flyers, on the other hand, swept their semi-final series against the Adelaide Lightning in two games meaning they've had a week to recover and prepare.
Just three points made the difference in both of Southside's semi-final wins – 68-75 in game one and 82-79 in the second – but it was enough to knock out last year's runner up.
This adds to the Flyers' impressive 17-4 win/loss record of the regular season which earned them the minor premiership in the club's inaugural season.
The UC Capitals were the only team to have won the series split over Southside, though, and Southside were the only team to have defeated the Caps at home this season.
Despite the Caps priding themselves on defending their home court, perhaps their success at Dandenong Stadium works well given Southside have home court advantage.
"We take confidence that we've beat them twice on the road, but I don't think we can get too ahead of ourselves. I don't think it's going to be that easy with the crowd and knowing it's a grand final series," said head coach Paul Goriss.
Goriss flipped straight into grand-final mode after Wednesday's semi-final win, staying up to 3am that night reviewing the game and eight hours the next day watching tape for individual and defensive scout.
Goriss notes that Southside is a very different team to Melbourne due to their scoring power across their different players.
"They're a really good team and they score a lot of points in many of different ways.  We've just got to prepare, as best we can, the set plays but also the random basketball they're going to break out because they've got good individual players."
The major difference this game, however, is that Southside will reintroduce their captain, Jenna O'Hea. O'Hea broke her wrist during a game on January 12 and was given the all-clear on Monday to play these crucial grand final games.
Unfortunately for the UC Capitals, Gemma Potter was ruled out of the series on Tuesday. Potter hadn't played in the last two semi-final games due to the grade three ankle sprain she suffered during training after game one. Potter, who is just 18 years old, was applauded for her incredible defense against Melbourne's Lindsay Allen in game one. Her length and athleticism will certainly be missed on the court, but her support from the bench will be no less.
Look to Olivia Epoupa who will match up against former Capital Leilani Mitchell. Mitchell can cause major damage and is known for hitting big threes or executing plays at crucial times. She averaged a valuable 16.5 points over the semi-final series. Epoupa, known for her defensive abilities despite only being 165cm, will look to limit her scoring power.
Marianna Tolo will be tasked with going head to head with the WNBL Defensive Player of the Year, Mercedes Russell. Russell, who stands at 198cm tall, had an impressive double-double in game one of their semi-final series with 20 points and 19 rebounds, and backed that up with 15 points in game two. Tolo herself had an outstanding semi-final series, though, so this match up will be nothing short of entertaining.
If the UC Capitals can pull off a win on Sunday, they have a chance at winning their ninth championship at home at the AIS Arena where they did just that last year.