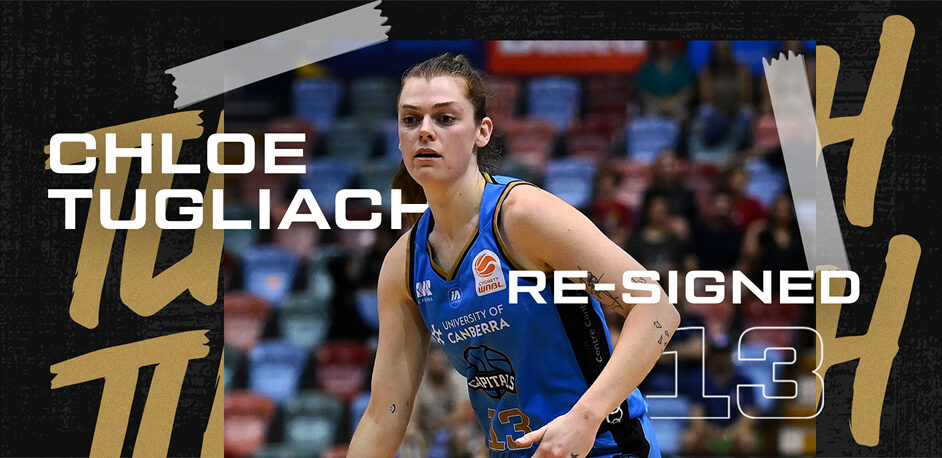 August 11, 2023 | UC Capitals news
From taking a break from basketball in 2021, being selected as a development player in 2022, to being elevated to the main roster in 2023; Chloe Tugliach has today been announced as the UC Capitals 11th signing for the 2023/24 Cygnett WNBL season.
Identified through the UC Capitals Development and Futures Day, Chloe Tugliach played 11 games for the Caps last season, recording 15 points, 15 rebounds, 8 assists, 4 steals and 3 blocks.
"We were so pleased to see Chloe enter the league in 2022/23 as a DP, pick up a tonne of valuable minutes and opportunities, and now earn herself a rostered spot for season 2023/24," UC Capitals Head Coach Kristen Veal said.
Standing tall against players with years more experience, the guard stepped up in a big way during a season where injury created opportunity. Chloe said she's looking forward to being able to prioritise basketball again and see where the team can go this season.
"Last year I was racing between my office job, training and games but this season my job will take a backseat so I can be there for all the extra bits and pieces and spend some more time off court with the team," Chloe said.
"Expectation and performance wise, I don't think much shifts. Vealy made it clear last year that on court we were held to the same standard, and particularly given the season we had with injuries, everyone needed to be ready when called upon. My focus will be on being competitive on court and pushing my teammates each week so we can keep building on the backend of last year – because that was some pretty exciting ball!"
Kristen Veal said Chloe is an exciting signing in this new era of the UC Capitals. "Chloe is a wonderful representation of this 'new era' Caps program.  She is gritty, versatile, promising and a wonderful teammate," Veal said.
"Chloe has the toughness, mobility and IQ to defend multiple positions and will help as greatly as we look to improve dramatically on that side of the ball this season."
Chloe will join Alex Bunton, Alex Fowler, Alex Sharp, Gemma Potter, Jade Melbourne, Jayda Clark, Monica Okoye, Nicole Munger, Bec Pizzey and Tahlia Tupaea for pre-season on September 11.
"I've learnt to love the game in a new way. Being around the likes of Britt Smart, who has been around the league for years, Jade Melbourne, who is the embodiment of competitive fun, and Nicole Munger, who is an absolute workhorse, has shifted my perspective and allowed me to really enjoy being an athlete again."
The UC Capitals tip off their season on November 5, with 2023/24 Memberships going on sale to the general public August 28.