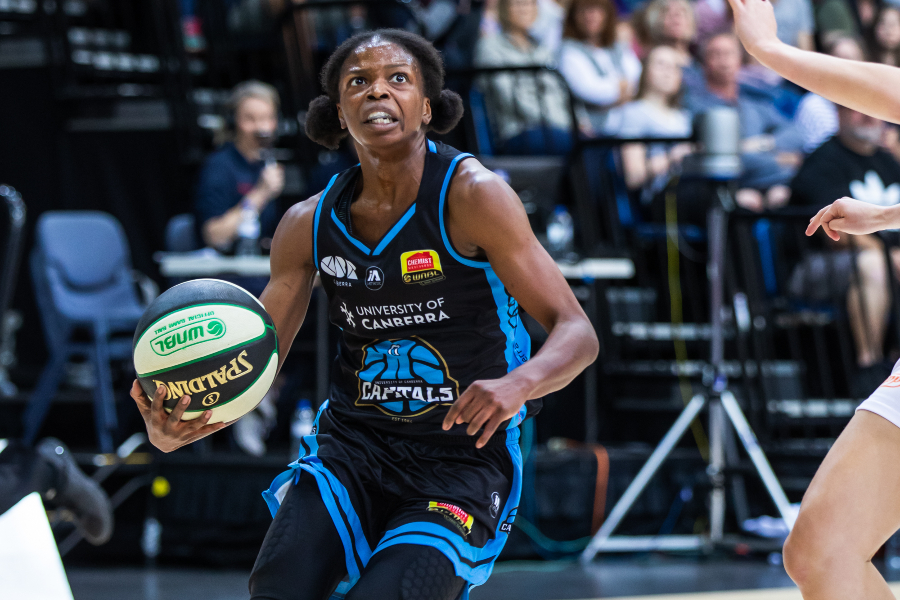 October 20, 2019 | UC Capitals news
The 7 steals, 8 rebounds, 4 assists and 13 points Olivia Epoupa put up in the UC Capitals clash against the Townsville Fire on Sunday afternoon meant all eyes were on the French import.
Canberra turned it on for the UC Capitals' return to their usual stomping ground with 1211 fans packed into the National Convention Centre.
Despite taking out Player of the Game for the UC Capitals, coach Paul Goriss said that Epoupa's performance is only a glimpse of what she can do.
"We're still finding our rhythm both offensively and defensively as a group, especially when you bring in a new point guard that hasn't played in the league. I think right now, we're only seeing 50% of what Olivia can do," said Goriss.
It was a very physical game that always seemed to stay within just a few points between both sides. The Fire were visibly hungry for a win after coming off a tough loss to the Adelaide Lightning on Friday night and an undesirable Round 1.
"I think it was one of those games where, as I said to the assistant coaches during the game, we're just going to have to play ugly. It wasn't one of the prettiest games offensively for us and credit to how Townsville played defensively," said Goriss.
"The physicality of the game probably took over and neither team shot the ball that well so it really came down to who was going to execute down the last stretch of the game and thankfully we got some great baskets from Olivia, Kia, Keely, who really stepped it up in the fourth, and Kelsey as normal."
Overtime was certainly on the cards when, at 12 seconds left in the final quarter, the UC Capitals led by two and the Fire had possession. Fortunately, a timely foul from Kia Nurse interrupted the Fire's last play and only chance to keep them in the game. The UC Capitals won 67-65, maintaining their home game win streak of 13.
With almost 18 minutes on court, Abby Bishop (12 points, 13 rebounds) made Marianna Tolo's return a tough one as the pair threw everything at one another.
Bridget Carleton led the scoreboard for the Fire with 14 points and 7 rebounds, while Kia Nurse put up 16 points and Griffin finished with a double-double (16 points, 13 rebounds).
The UC Capitals will spend Round 3 on the road with games starting in Melbourne and ending in Sydney. They will be back at home on November 2. To purchase tickets, click here.