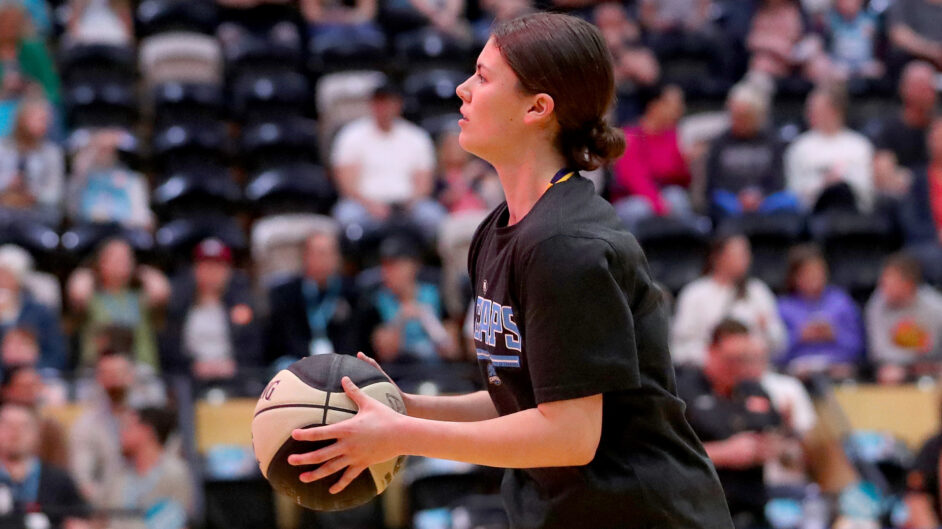 December 28, 2022 | UC Capitals news
The UC Capitals have gone down to the Southside Flyers 76-54, in Round 8 of the Cygnett WNBL.
An unfortunate colour clash between kits meant the Caps had to wear a supplement jersey supplied by the home side, with Jade Melbourne, Brittany Smart, Rae Burrell, Alex Bunton and Nicole Munger starting for the Caps.
Southside was extra motivated to win for Sara Blicav's 250th WNBL game, with a full strength squad in Bec Cole, Kayla Thornton, Maddy Rocci, Sara Blicavs and Lauren Jackson and Bishop on the bench
Q1
It took some time for the UC Capitals to find their feet, with Jade Melbourne the only goal scorer in the first six minutes. Head Coach Kristen Veal called an early timeout when the score reached 11-2. The shots kept dropping for the Flyers, before Nicole Munger and Shaneice Swain reacted, driving to the basket with a determination to narrow the margin. It was in these final few minutes of the opening quarter that the Caps got comfortable, with Swain on 7 points heading into the first break.
Southside 24, Caps 14
Q2
The UC Capitals came out with energy in the second quarter, with Swain again leading the charge. Southside was strong on rebounds, catching the Caps off guard on almost every occasion. Up the other end, and the Flyers did well to contain Rae Burrell after she posted 27 points in the Caps' previous game. It became a 15-point margin heading into half time with Shaneice Swain on 12 points, Munger on 6.
Southside 40, Caps 25
Q3
The Caps displayed great play to open the second half, with Swain finding an easy basket, thanks to a Jade Melbourne assist. Despite the 15 points separating the two sides, the Caps remained calm and seemingly positive. Canberra did a good job of slowing the Flyers down in the third, with several missed baskets in a row and getting more points on the board.
Southside 55, Caps 36
Q4
There were some moments of magic for the visiting side as Shaneice Swain hit back to back threes, ending the night with a 50% free throw average. Munger was also shooting well from the arc as well as getting under the rim to help the Caps stay competitive. Southside looked very familiar with their home court with nine of their players getting points on the board.
Swain top scored for the Caps with 22 points. Nicole Munger recorded 15 points, 5 rebounds & 3 assists.
The UC Capitals go on Friday night against the Sydney Flames.
Southside 76, Caps 54.