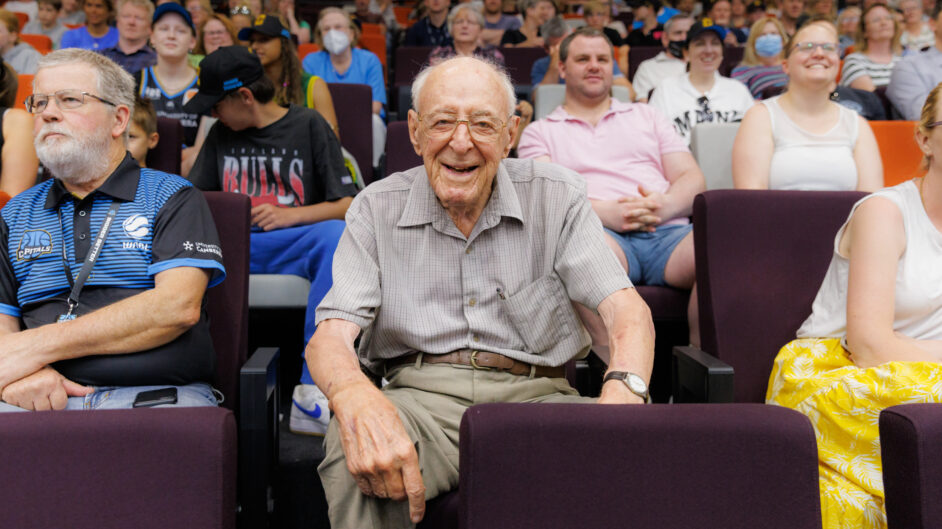 March 4, 2023 | UC Capitals news
The UC Capitals have always had some of the loudest supporters in the WNBL, but they've also got one of the longest fans too.
At 91 years-old, Anthony 'Tony' Thomas Hall is one of the original supporters of Australian basketball, and in particular the Caps having cheered the team on since their inception in 1984.
Tony is such a dedicated supporter that he remembers watching when current Head Coach Kristen Veal, made her debut in the WNBL at just 16 years old, who then signed on with Canberra and won the Caps their first championship.
Nine titles later and Tony is still sticking by the Caps no matter how their season is going and doesn't put any one season above the rest.
"I find I like every game. I don't have specific memories of specific games because literally every game I think is just marvelous the way they do it," he said.
Tony is now retired but once served as a Colonel in the Royal Australian Army and first got into basketball when he played at the Royal Military College.
In 1979, he was there when the NBL and the Canberra Cannons founded and took his wife and three children to watch them play.
"They played out of the showground initially and the only people who turned up were family, so I decided that my family needed to see a bit of sport," he said.
As support for the team increased Tony was there when they moved to play at the AIS Arena and remembers the unexpected turnout for their first match at the new venue.
"They had the court set across the length of the building… and they had curtains at each end and so many people turned out they had to have people sitting behind them to watch the game," he said.
For seven years they attended matches as a family before his oldest children moved away, but Tony continued with his youngest daughter as the Cannons folded and the Caps were born.
Tony was such a regular at home games that by the time his youngest daughter was ready to move, he already knew all the people sitting around him at the arena.
But his love for the Caps hasn't stopped at just home games, as across his life he has watched them tip-off in every city except Adelaide and Perth. He has even managed to catch them play in Ballarat when he thought they were in Bendigo which made for a very swift drive but he still managed to make it on time.
Basketball hasn't been Tony's only sport of choice, during his time he has also given squash a try and almost lost an eyebrow playing hockey, but most impressive was his dedication to croquette.
Starting out just wanting something more sedate, he joined the Canberra Croquette Club where within five months he was made secretary, then held the presidency for three years before going on to be Senior Vice President of Australian Croquette, and finally President of the World Croquette Federation.
After spending many years travelling the world playing croquette and recruiting new countries to the Federation, Tony retired and now enjoys coming along to watch the current UC Caps team.
His favourite player on the roster is Jade Melbourne who he says is a very talented athlete and has been thoroughly impressed with her long-range shooting ability.
But as to what keeps Tony coming back to support the Caps:
"I think they play very well but more to the point; they're so agile. It's really wonderful to see young women who are just so switched on," he said.
Words by Grace Buckmaster