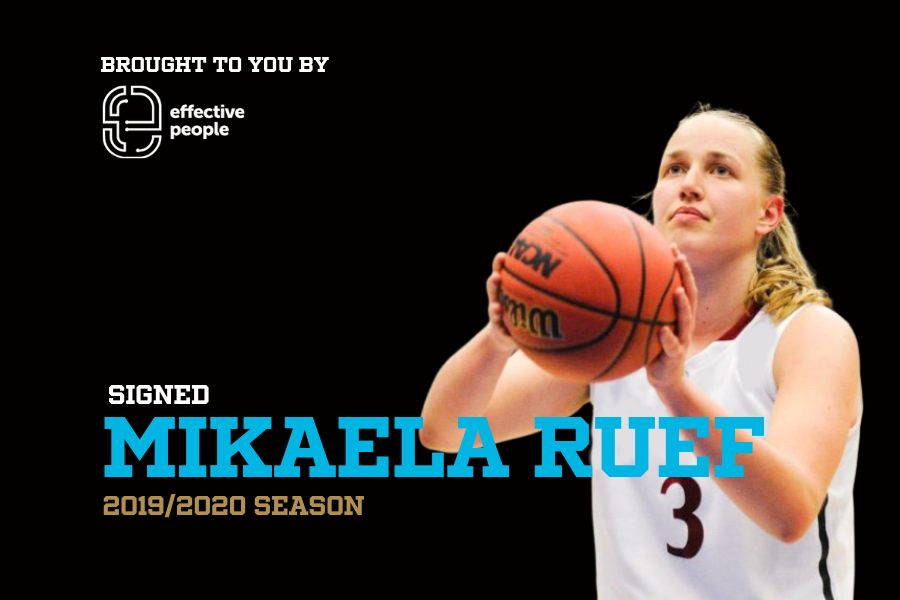 September 5, 2019 | UC Capitals news
Forward Mikaela Ruef has signed with the University of Canberra Capitals for the upcoming WNBL season.
Ruef, 191cm tall and 28 years old, played for the UC Capitals during the 2016/17 UC Capitals season before joining Toulouse in France where she unfortunately tore her ACL in the finals.
After a year of rehabbing, Ruef recently played for Logan in the QBL where she won the league's MVP title.
"I've just finished up my first season back from injury at Logan where I was able to regain confidence in my game and in my knee," said Ruef.
She is now already in Canberra training and will play a big part in the UC Capitals pre-season games.
"I wanted to come back to Canberra because it's the best club I've been a part of in the WNBL, not to mention they won a championship last year and I want to be a part of helping the team win another.
"As a team, my expectation for the season is to go back to back and win another WNBL Championship.
"As for my personal expectations, I just want to do whatever I can to help the team win, whether that be rebounding, setting good screens and diving on the floor.
"I'm excited to play with Tolo again, she's one of my favourite teammates ever, and Kelsey because I've heard so many great things about her, plus she's an amazing player. I hope that I can just fit into the team seamlessly and make everyone better," said Ruef.
Ruef, who is a US citizen, is currently awaiting Australian permanent residency and will not be able to play until then. WNBL rules state that each team may only suit up two international players, which the UC Capitals have in Kia Nurse and Olivia Epoupa.
"I've signed with the Caps contingent on getting permanent residency in Australia. I've lodged my application, but it's a long process that has lots of requirements. I'm waiting on one final police check from Ohio to come back, then I will have everything I need and hopefully it will get approved before the start of the season," said Ruef.
Head Coach Paul Goriss said that he is pleased to welcome Ruef back as she's one of the hardest working players in the game.
"The last time Ruef played for us in 2016/17, she led the team in rebounds and formed a strong front court combination with Tolo.
"Ruef is always working hard to get better and add to her game.  She brings toughness, competitiveness and WNBL experience to our team.
"Her work ethic and skillset will fit perfectly with our team chemistry and was a fan favourite because of her energy and relentlessness on court," said Goriss.
When Ruef played for the UC Capitals, the team was still playing out of the Tuggeranong Basketball Stadium.
"I'm most looking forward to playing in front of the amazing crowd in Canberra. I saw so many pictures and videos from the Grand Final last season and the number of fans in the stands was incredible. There's nothing more exciting as a player than playing in front of a sold-out stadium of fans cheering you on," said Ruef.
The UC Capitals are now one player away from completing the 2019-20 roster as the team starts to prepare for the season opener at the AIS Arena on October 13.