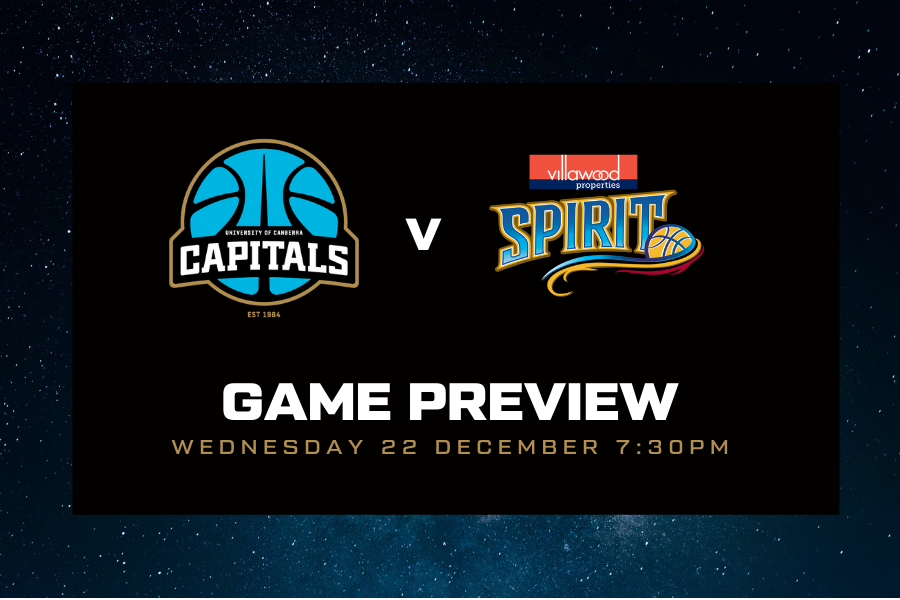 December 21, 2021 | UC Capitals news
This Wednesday night, the UC Caps will face the Bendigo Spirit at the NCCC.
Both teams are coming off disappointing losses and will be looking to right the ship with a win on Wednesday night.
The UC Caps looked like a team who'd had a week off, struggling to find consistency and instead relying on individuals to keep them in the game.
Alex Bunton wasn't turning to excuses, though, and said that the team has been hard at work to make the required adjustments.
"Tuesday was the day that we got to address the things that we did right and wrong. We've watched the scout, we've had chats, and on the court, we've made some changes." 
Bendigo looked like they might be a surprise packet this season with an upset win over the Melbourne Boomers. However, so far, that win is the only one of the season, now sitting at 1 – 2.
Britt Smart highlighted, "I've seen their last two games, they play fast and speedy, and they have a stretch four, but I don't think it's anything we can't match."
Britt believes the team will need to be more proactive and find their balance to combat that. "For us, it's just being proactive, so whatever our gameplan is, we need to be proactive and on the front foot, rather than being reactive to what they're running.
"Knowing when to go to that speedy type press, when to hold back, and that's just us getting to know each other."
Like most teams in the league, Bendigo have multiple threats on the floor. Annali Maley, Tessa Lavey and Maddie Garrick are always threats to score, while former UC Capital Leilani Mitchell (who's yet to get going this year) is dangerous from the three-point line and with her playmaking. 
The key to this one will be shutting down Annali Mayley's impact at the offensive end.
Mayley is currently in the top 10 for scoring, offensive rebounding (4.0 ORPG) and leading the WNBL in total rebounding (12.7 RBG).
Limiting Mayley's touches and her impact on the offensive glass will be instrumental to having success against Bendigo.
With Kelsey Griffin still sidelined, it will be up to Mikaela Ruef and Alex Bunton to shut down Maley.
Ruef also sits in the top 10 in the WNBL for total rebounding (9.0 RPG) and leads the WNBL in offensive rebounds (4.5 ORPG). It will be a good old fashioned battle of the bigs.
Kawhai Leonard once said, "board man gets paid." This game will be the exemplification of that statement. Whoever wins the rebounding battle will get paid in the form of a win.