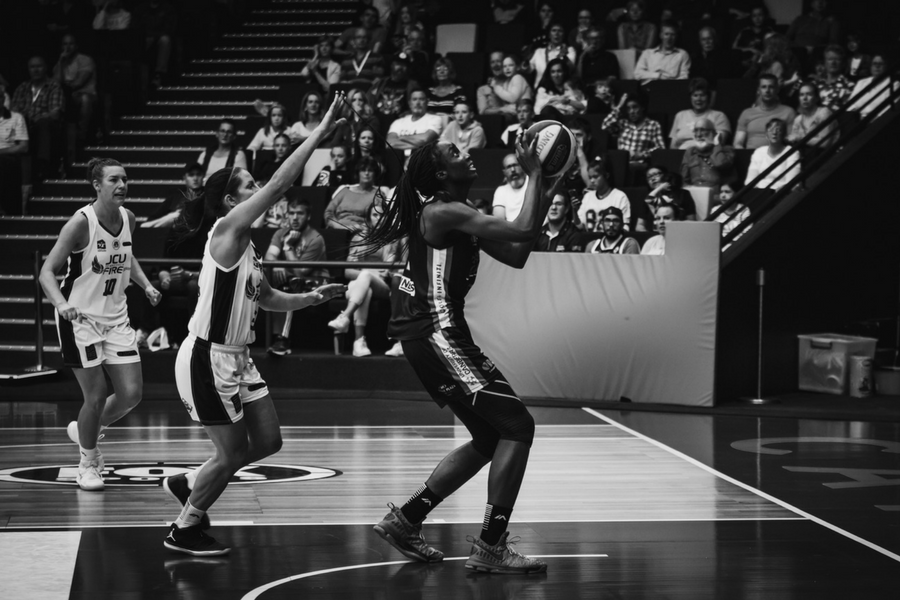 November 27, 2017 | UC Capitals news
In the inaugural WNBL 'This Girl Can Vic' Cluster Round at the State Basketball Centre, the University of Canberra Capitals went down in an agonisingly close defeat against Bendigo Spirit, 80-83.
The UC Capitals started off strong with Maddy Rocci and Keely Froling combining for 14-points to win the first quarter, 31-21.
A late triple to Kate Gaze gave the UC Capitals a seven-point lead heading into half-time while Nat Hurst continued her dominance on the court with eight points, five rebounds and four assists. The UC Capitals went into the second half, 47-41.
The third quarter saw Gaze start the second half in the same way she ended the first scoring another three points to move the UC Capitals further in front in the first 15-seconds, 50-41.
However, Bendigo Spirit's Nadeen Payne caused mayhem for the UC Capitals defence as she scored two three-pointers in quick succession before the third quarter buzzer. The UC Capitals managed to keep their lead ahead of the final term by two points.
The last ten minutes saw the momentum shift towards the opposition as the UC Capitals were unable to defend their early game lead in the dying moments of the match with Gaze unable to hit the net in her late attempt of a three-pointer. The Bendigo Spirit narrowly won the match by three points despite having 17 less field goal attempts.
Ezi Magbegor was the standout player for the UC Capitals who stood out off the bench with 16 points and one block.
The UC Capitals will look towards their monster road trip this Thursday night against Perth Lynx and on Saturday evening against the Melbourne Boomers as they look towards breaking their mid-season drought.
COMPETITION WNBL 2017/18 VENUE State Basketball Centre GAME DETAILS Tip-off: 5:30 pm 25/11/17
BENDIGO SPIRIT 83 (Betnijah Laney 23, Nadine Payne 18, Gabrielle Richards (15) bt
UC CAPITALS 80 (Eziyoda Magbegor 16, Nat Hurst 13, Mistie Bass 12) at State Basketball Centre.
Next Home Game: UC Capitals v Sydney Uni Flames, National Convention Centre Canberra. Tip-off: 7:30pm, Thursday 7th December.
Tickets: bit.ly/2fhQQ3t
Photography: 5 Foot Photography
Credit: Jaylee Ismay