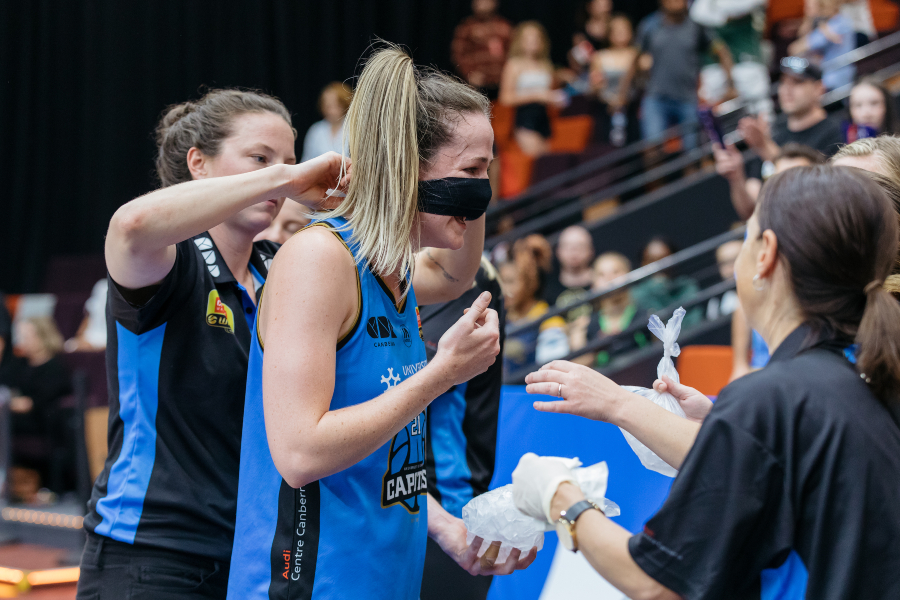 January 31, 2020 | UC Capitals news
Keely Froling, who broke her nose and fractured her cheek just 15 days ago, will play in tomorrow's night clash against the Adelaide Lightning.
Froling had surgery to reposition her nose which was giving her trouble breathing while the cheek fracture has healed naturally.
This is incredible news for Froling, which comes on the day of her birthday, as she was originally advised the injury could sideline her for up to six weeks which would have clashed with playoffs. However, the cheek fracture was not as severe as first thought.
"The issue was the cheek originally, they were worried about that, but the surgeon had a look and said it was fine," said Froling.
The 24-year-old guard, who was filling the shoes of Kelsey Griffin while she was recovering from an ankle injury, received an outpour of love from fans when the scans revealed the extent of the damage.
Froling was commended for her toughness after she continued to play in overtime and scored the game-winning basket.
She's not completely out of the woods, though – she's been warned another knock could result in another broken nose. However, that's not enough to deter Froling from playing the last game of the regular season.
"I have that white line fever. Obviously, there's that risk there, but it didn't stop me before so it won't stop me now. At the end of the season, if I have to, I can go get it fixed again. So, we'll just go with it for now – I want to do everything I can to help the team."
To see Froling and the UC Capitals this Saturday night, purchase your tickets here.