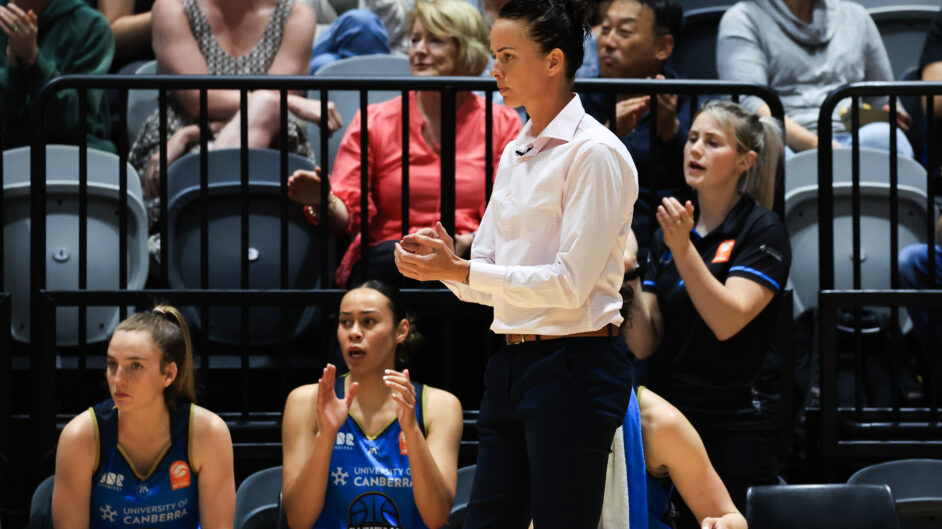 November 21, 2023 | UC Capitals news
It's been a whirlwind of a first week for Jade 'JJ' Kirisome who has finally found a minute to catch her breath after hitting the ground running with the UC Capitals last week.
After some initial chats with head coach, Kristen Veal, she received the call to join the Caps on Monday afternoon, packed her life up into two suitcases, and by Tuesday morning was on a flight to Sydney.
Jade met the team at the airport baggage claim and was officially welcomed into the team as they went on their away trip to Sydney and Townsville.
"I honestly think it was the best way to just gel with the girls and get right amongst it… This was a good learning experience for me to be able to adapt really quickly, adjust with the team, and just be super open minded," Jade said.
The transition into the team was made easier with the help of her new teammates who she credits as being understanding and patient while they walked her through their strategies.
Her roommate, Shakera Reilly, was kind enough to give her a pop-quiz of their offensive plays while she studied up, and Nicole Munger offered her advice after being in the same situation last season.
By Wednesday night she was suited up and subbing on for her first minutes in the WNBL, a goal she's had since she watched the league as a kid.
"Surprisingly I thought I'd be a lot more nervous, but I think there was just too much going on for me to think about all that… [The WNBL] is just such an elite competition, with amazing players so, to get the call up and be on a roster spot was just such a dream come true and still pinching myself now," she said.
The 23-year-old has already picked up the nickname 'JJ' to ease confusion for the team when talking to herself, Jade Melbourne, and Jayda Clark.
However, it's not just the last week that's been a whirlwind for JJ. Canberra is just the latest stop after a busy six months that has seen her play basketball in three different countries.
In June, she finished her college playing career graduating from St Mary's in San Fransisco, she then spent the winter playing in Tauranga, New Zealand, before flying back home to Brisbane where she's been for the last few weeks.
Having some experience in the pro-league in New Zealand has helped her transition from college basketball to the WNBL and says the style of our league has a lot more freedom, aggression, and higher pace.
After her first full training with the team, she says fans should be eager to get around her this season because she's a competitor all the way through and is never going to give up.
"I've got a lot to prove because I am new to this league so, for me that's just going to be a lot of hustle plays, hopefully shooting the ball really well, but just commit to the nitty gritty plays and the extra things that I can do to get my team extra possessions."