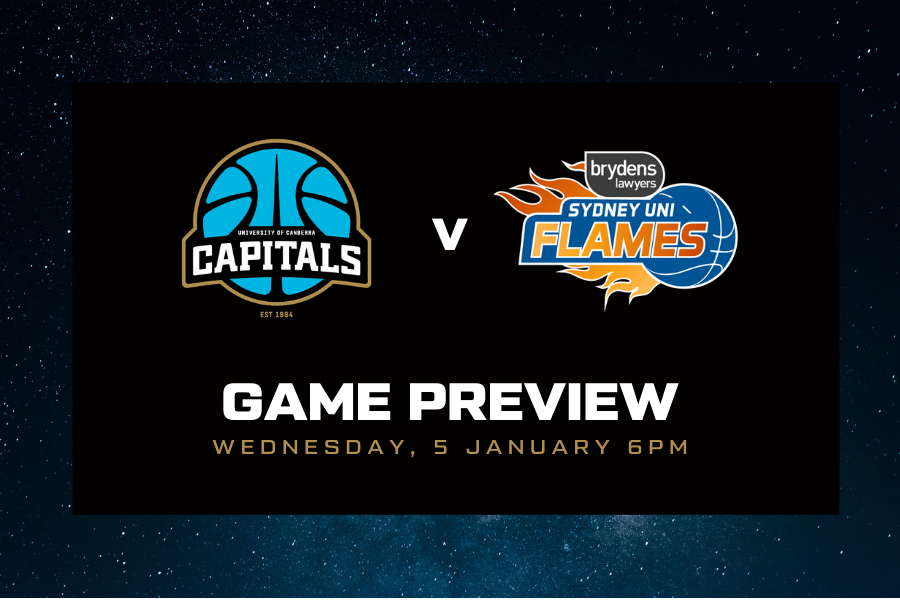 January 5, 2022 | UC Capitals news
When: 5 January, 6pm tip-off
Where: National Convention Centre Canberra
How to watch: Kayo Free or buy tickets here
Wednesday night, the UC Capitals will take on the Sydney Uni Flames.
This game marks the first time that the UC Capitals will see a team for a second time. Despite a lot of noise in the media since these two teams last faced each other, Kelly Wilson is confident that noise hasn't impacted the team.
"We haven't really been reflecting on that at all; it's business as per usual, we've gone in with our usual preparation for every game that we play. We know Sydney are a good team, they've got some prolific scorers… but it's the same [preparation] week in week out."
This week is a special game for Kelly as she notches her 400th WNBL game on Wednesday night.
But she insists she hasn't had a chance to reflect on the achievement, nor will she let it get in the way of the team's preparation for the Flames.
"I go day to day at the minute… Tomorrow's the game, and then I'll think about going to Traralgon on the weekend."
Kelsey Griffin was less modest in praising her longtime teammate and friend.
"What she's done for this country in Basketball, no one else has done, which cements her as one of the greats in my mind."
Griffin was also quick to point out how good a teammate Kelly is and how important she is to the team's success.
"Reflecting back on my time in Bendigo, [I realise] how lucky I was at that point in my career to play with someone like Kelly, to reinvigorate my love of basketball because she makes me better."
It's no secret that having both players on the floor together helped the Caps pull off a statement win in Townsville last week.
Wilson believes it showed the team they can compete with the best clubs in the league. She insists that now the Caps believe in themselves; they are looking to show the league they can be consistent.
"We can't have that great win in Townsville then come out tomorrow night and be inconsistent.
That's what we're looking forward to tomorrow night to prove that we can be consistent."
The Flames will be looking to get their first win of the season and will be looking to get revenge for a game they feel they should have won in round one.
Griffin emphasised that to win against the Flames, the UC Caps will have to "win ugly".
"The Flames are one of those teams that you know you're going to get their best shot night in night out, they're scrappy, they play hard, they're well-conditioned, they change the game up, full-court pressure different defences, they really extended us and got our offence to a grinding holt in that first half."
"Their game plan usually is to get us out of our offence, slow us down, take time off the clock, so we're shooting last-second shots.
"I think it's going to be a really challenging game but if there's anything I've learnt about this team over the last two months is that we're up for a challenge."
Key players to watch this week will be Shylah Heal and Lauren Mansfield. The Caps will need to slow down their scoring to have a chance.
The Caps will need to dictate tempo at the other end and not let the Sydney team disrupt their offence.
Watch out for Kelly Wilson, Kelsey Griffin and Britt Sykes to have big impacts in this one.
And if all else fails, the Caps will need to find a way to "win ugly". In any case, it should be an exciting matchup.