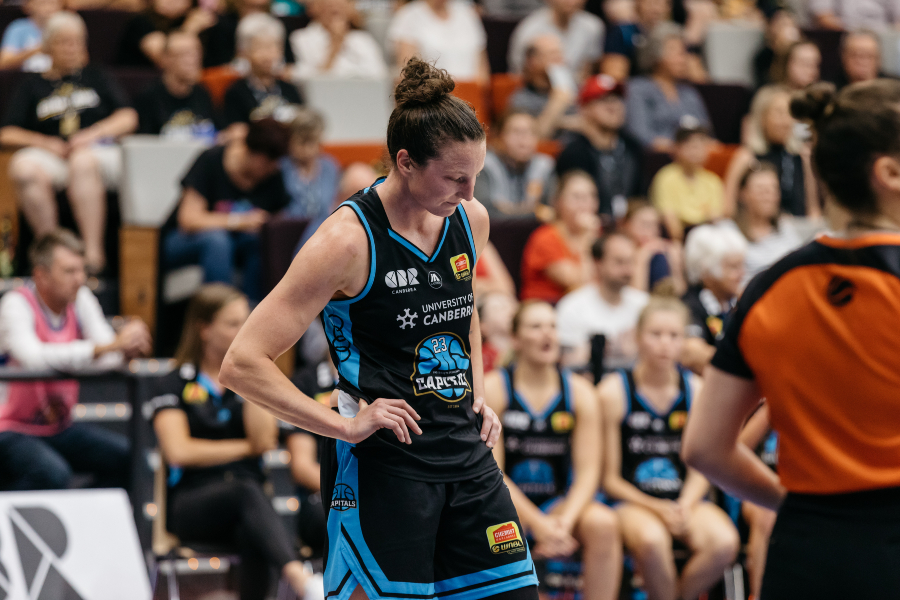 December 19, 2019 | UC Capitals news
UC Capitals co-captain Kelsey Griffin is expected to be out for six weeks after suffering a high ankle sprain during Round 9's game against the Southside Flyers.
Griffin will be in a boot for 2-3 weeks and then will rehab and slowly work her way back onto the court.
"It's just an unfortunate injury at the time and something she continued to play on but obviously it got worse in that fourth quarter. She had an MRI and scans done and that's what it's come back with and so, unfortunately for us, she'll be out for six weeks," said head coach Paul Goriss.
"The good news is if we make it through to finals, she'll be back in time."
The loss of Griffin will mean that Keely Froling will again step into a starting position with Gemma Potter and Alex Delaney to play extra minutes. Froling started at the beginning of the season in place of Marianna Tolo and has been a dominant bench player.
"I guess it's seamless bringing Keely back into that starting group.
"We're just going to have to be creative with what we do defensively and how we work some schemes offensively, but it's a great opportunity for the others to play some extended minutes.
"To me, there's no added pressure. You're not going to replace Kelsey's double-double, her basketball IQ and what she brings in a leadership role.
"It's just about individuals stepping up and doing a bit extra. I don't think we can point to one person and say 'you've got to do what Kelsey does' – we've got to do it as a group.
"I think it's a positive leading into finals because we'll need some of that depth in a three-game series. If the injury was going to happen, it's probably happened at the best time. They can get some court time and get used to playing their roles and then Kelsey will come in on the backend," said Goriss.