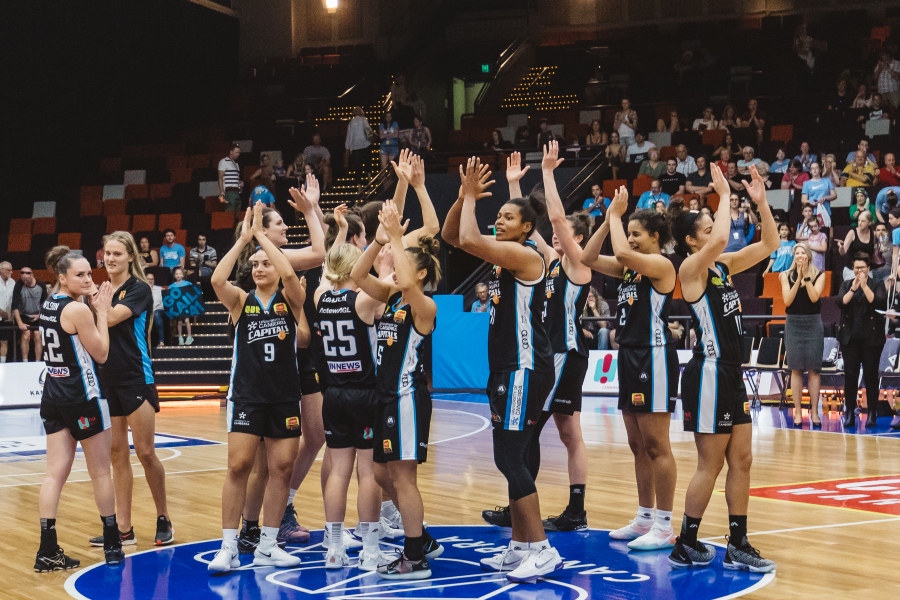 December 11, 2018 | UC Capitals news
Round 9 proved to be emotional for the UC Capitals which saw the return of their co-captain, Marianna Tolo, after a nine-month injury stint.
The crowd at the Capitals home game was louder and more excited than ever before as the court announcer read out her name to join the team on-court, midway through the first quarter.
Then in the post-game press conference, after dominating the court with 23 points within her 21-minute run, Head Coach Paul Goriss was asked about how it was having Tolo back.
In the process of explaining how she's an inspiration, he broke down with tears of joy.
"I've known her for a long time, but it was just… inspirational. We go back a long way from when Tolo was 12. She's just a unique person, and I'm just happy for her," said Goriss.
The Tolo comeback wasn't the only thing to celebrate, though. The Capitals thrashed Bendigo Spirit, Kelsey Griffin's former team, by 31 points, finishing 94-63.
As usual, Kelsey Griffin didn't go unnoticed, putting up 21 points, 7 rebounds and 6 assists which has led to her being named in the WNBL Team of The Week for the sixth time this season.
While on a huge high, the UC Capitals are about to face possibly their most challenging Round to come, feeling the pressure to take a win over Perth in their final opportunity.
Starting with a game on the road in Adelaide, the Caps will be returning to Canberra looking to go bigger than ever before.
The Lynx and the UC Capitals have been neck-and-neck for most of the season, but the Caps have fallen short in two opportunities to overtake them on the ladder and defeat the league-leaders.
With a home court advantage, this might be the key to take out a win.
Meanwhile, the UC Capitals are gearing up for a week dedicated to their inaugural Indigenous Round, with a schedule full of community-engagement, including a skills clinic with local Indigenous basketball team, The Warriors, and Indigenous advocacy.
To buy tickets to the Sunday, December 16 game, click here.