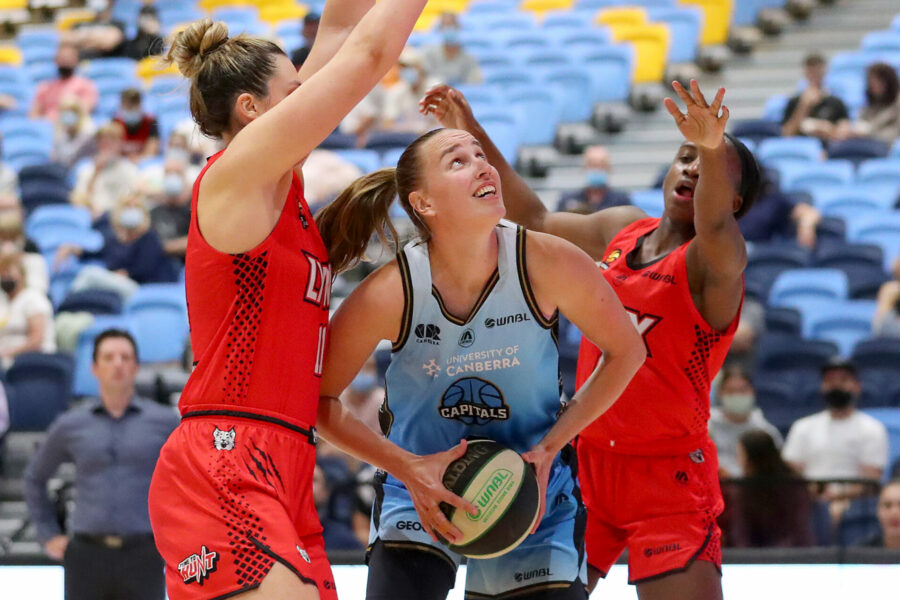 March 3, 2022 | UC Capitals news
Mikaela Ruef has suffered a mild concussion and season-ending pinky finger fracture affecting the extensor tendon and joint surface which required surgery.
The injuries occurred during Sunday's game against the Melbourne Boomers after a couple of hard falls. Immediately after the game, the team doctor flagged that the finger fracture might leave Ruef sidelined. Scans on Monday then confirmed the extent of the finger damage and that Ruef needed surgery.
Head Coach Paul Goriss said that he's disappointed for Ruef not being able to see out the season with the team.
"What Mik brings is the rebounding, the hustle plays and the effort, and I think she was playing some of her best basketball that we've seen, so it's really disappointing for her and our group.
"Everyone copes with injuries and other teams have had to deal with it so while we feel for Mik, we have to be flexible and adaptable in these times. We'll have to deal with what we got and make adjustments along the way.
"I think we're lucky that we've got depth in both the guards and the big spots, so it's just more court time and opportunity for Alex Bunton and Alicia Froling.
"Alex is ready for it and she probably has been ready for it for a couple of weeks. It's just that we've been lucky that Mik's been playing well.
"We can go a number of different ways now depending on how we want to play. It's just that making those changes this late in the season is disruptive, but we'll practice those different lineups during the week in our preparation," said Goriss.
Ruef averaged 9.6 points and 9 rebounds per game.
The UC Capitals will play the Southside Flyers this Saturday at 7:30pm.