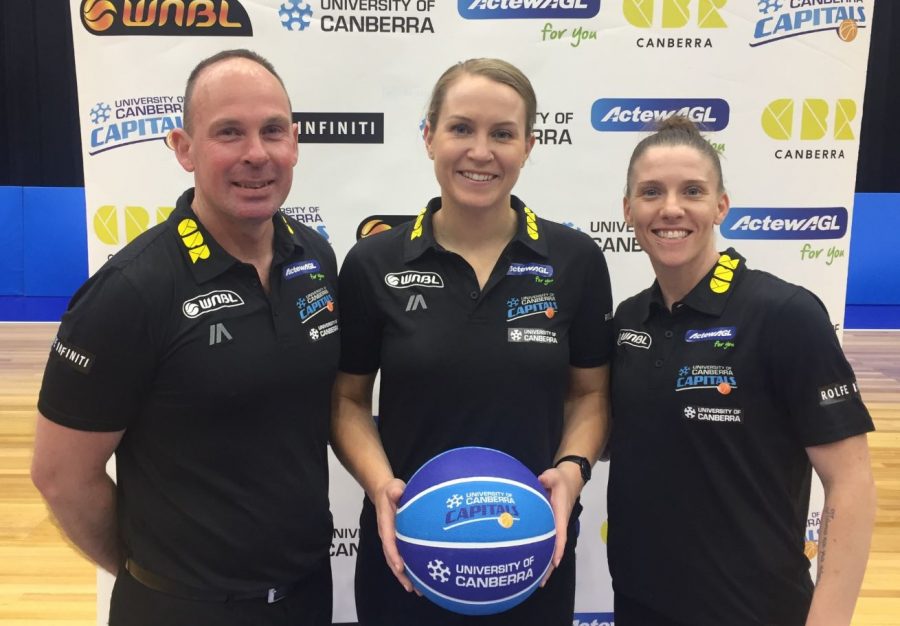 October 3, 2017 | UC Capitals news
Seven-time WNBL championship winner Natalie Hurst will add another chapter to her fairy tale career with the University of Canberra Capitals when she captains the side during its 2017/18 WNBL campaign.
Hurst was unveiled on Tuesday as the player to guide the club back to the heights it hit during her first stint in Canberra.
The veteran guard, who re-signed this year, won seven titles with the club between 1999 and 2010, a period in which the UC Capitals became the most successful WNBL side in history.
Hurst, who is the only player to be involved in all seven triumphant seasons, is tasked with leading the UC Capitals back to the summit of Australian women's basketball.
She said it was an incredible honour to be granted the opportunity to captain the side.
"It's a huge privilege to be entrusted with this role at such an exciting time for the UC Capitals," Hurst said.
"This is a club that has already afforded me a great number of opportunities during my career, but having the chance to lead the side is something else entirely.
"There's something special happening at this club and I'm so glad to be a part of it. We've got a tightknit squad and all of the girls are focused and committed on the season ahead. I know they'll make my job easy."
After leaving Canberra in 2010, Hurst plied her trade in Europe. She was most recently playing for Turkish club Hatay in the EuroLeague before answering UC Capitals coach Paul Goriss's call to return home.
The 34-year-old is in the twilight years of her decorated career, but she possesses the experience and knowledge of the game to lead the young UC Capitals outfit and will be flanked in her role by Kate Gaze, who has been named vice-captain for the 2017/18 WNBL season.
Gaze returns to the UC Capitals for the new campaign after an impressive first season in 2016/17. The two-time WNBL championship winner contested the Queensland Basketball League with Logan Thunder in the off-season, where she averaged 26 points a game.
"I'm excited to be back in Canberra to play another season with the UC Capitals," Gaze said.
"To be handed the role of vice-captain is an amazing honour and I can't wait to get stuck in and deliver the performances I know we're capable of. We've got a great group here and I know we can build on the progress we made last season."
Goriss said he was pleased to have the final pieces of the puzzle in place ahead of the side's season opener against Bendigo Spirit on Friday.
"Nat brings a winning attitude, a professional approach on and off the court, and seven WNBL championships," Goriss said.
"She has played around the world and is a lifelong member of our club. She has a great basketball IQ and knows what it takes to win. Her leadership and direction will help us to be successful and I have the utmost trust in her to deliver.
"Kate will complement Nat really well. Her positive attitude is testament to her good character. She is the ultimate teammate and will keep our side together during our journey this season."
Hurst and Gaze will be supported by a wider leadership group completed by Australian Opals star Rachel Jarry and American import Mistie Bass.
"The leadership group is important for me as the coach to discuss technical and tactical aspects of our team and to assist me in providing direction during our season," Goriss said.
"They can assist with areas we need to improve on and also support the playing group.
"This year we want to be competitive and really challenge the league. This group will be key to that happening."
Credit:
Antony Perry