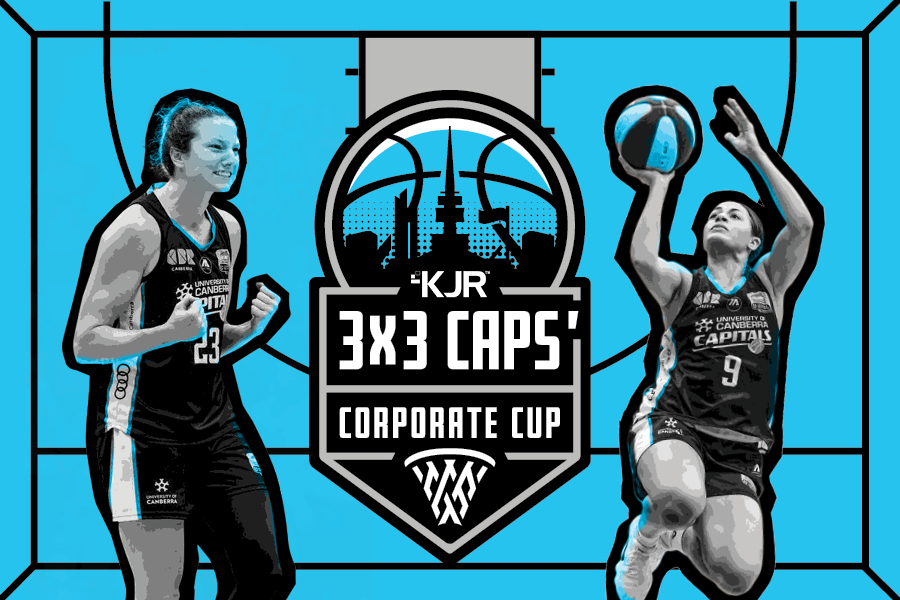 July 12, 2019 | UC Capitals news
Have you ever wanted to own, manage and play in your own professional basketball team?
The University of Canberra Capitals have teamed up with 2019-20 sponsor, KJR, to launch a new 3×3 Corporate Cup where organisations can register, build a team and even recruit a UC Capitals player or coach for some extra support.
The KJR 3×3 Corporate Cup will be a one-day round robin tournament on 4 October 2019, with impressive stakes up for grabs for the Cup winner.
Capitals Coach Paul Goriss said it will be a fantastic opportunity for businesses to network in a fun and active environment.
"I've made it a priority to recruit fantastic people for the 2019-20 WNBL season and this gives the corporates an opportunity to get to know them.
"I'm also looking forward to sharing my basketball knowledge with those who help the team off-court," said Mr Goriss.
A special player draft night will allow teams to strengthen their side with the purchase of a UC Capitals player through an auction. Drafted players will be able to join the game during two-minute 'power plays'.
Clinics will also be available for teams who want to learn from the best – the UC Capitals players and coaches.
Marianna Tolo said she is looking forward to seeing Canberra's skills and hopefully being part of one of the teams.
"I had my first experience of 3×3 Basketball in the NBL Pro Hustle in Melbourne this year and I can't wait for the teams to have as much fun as I did.
"It's a great chance for businesses around Canberra to get active and there's no better bonding exercise than playing team sport," said Ms Tolo.
KJR General Manager for Canberra, Andrew Hammond, said "We had the privilege of participating in the NBL 3X3 Pro Hustle Corporate earlier this year and when the Cap's suggested hosting a Corporate 3X3 event here in Canberra we couldn't sign up quick enough!
"We're super proud and excited to assist launching the inaugural KJR 3X3 Corporate Cup with the Capitals, and supporting the Caps as they chase back to back championships."
—
To find out more or to register a team, click here.