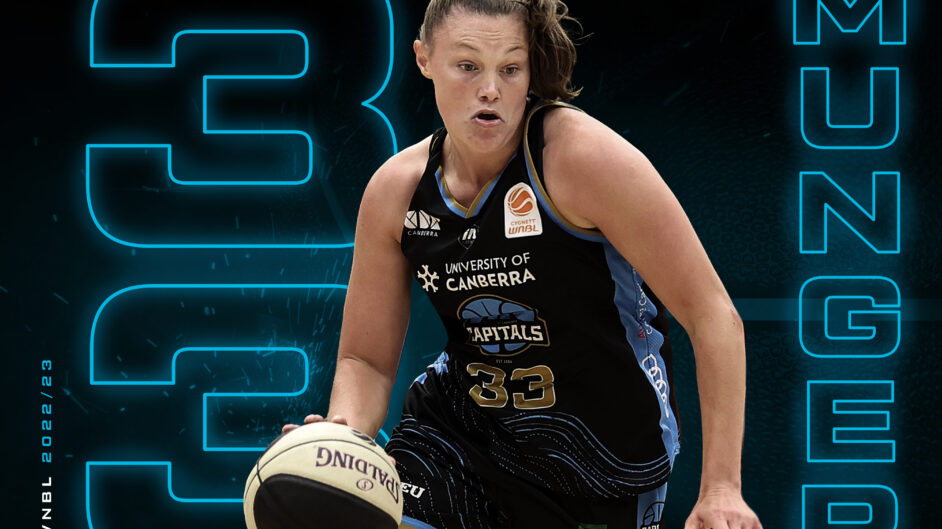 March 10, 2023 | UC Capitals news
She agreed to join the UC Capitals in late November, eager and grateful for the opportunity just to train with the team. Just two days later and she was on her way to Adelaide to play her first game in the WNBL as a UC Capital.
16 games, 190 points, 104 rebounds, 32 assists, 18 steals and 5 blocks later, the UC Capitals Players' Player has signed on with the club for 2023/24.
"There was no hesitation," Munger said.
"There are really special things going on here in Canberra and I think that's starting with Vealy and everybody in the organisation through to the players. I'm really excited I get to play for her again, she's probably one of the best coaches I've ever played for.
"She cares for you as a person and as a player, and then mixed with her basketball knowledge and expertise, she's great.
"I have had such great experience in the league, it's been wonderful to really have fun and play with some of my best friends."
Joining the team five games into the season, Nicole embraced the Caps culture and became part of the family in no time. Head Coach Kristen Veal said it was clear Munger is the type of player the Caps need to keep around.
"From day one, we knew how much she would give us," Vealy said.
"The real catch 22 is I don't even think she played her real position all season. So there's so much growth and there's so much more to come from her."
Munger played as a big all season, even though her preferred position is guard. The 25 year old told media she's happy to do whatever she can for her team.
"She is a guard, so next season, she will be a guard," Vealy remarked.
"Unfortunately with the way the season went, we needed her to be a big and then ultimately it probably wasn't as bad or as contrasting as you would originally thought because we ended up playing small ball.
"So the really difficult shift was she had to learn how to be a big and trained to be big. And then we shifted to small ball which is be a bit more guard like. So the challenge is that she went through we're probably unique to her and not others."
Munger is the fourth player to be locked in for next season, with Tahlia Tupaea and Alex Bunton squared away, and Jade Melbourne last week signing on for a further two seasons.
"What we found towards the mid back into the season, that's what we want to harness and can you continue to drive forward like that.
"If we can build on that we can add pieces that complement that and get better in a solid play that is infectious, inspiring, but then also quite difficult to play games, then yeah, it's a bright future for the UC Capitals."