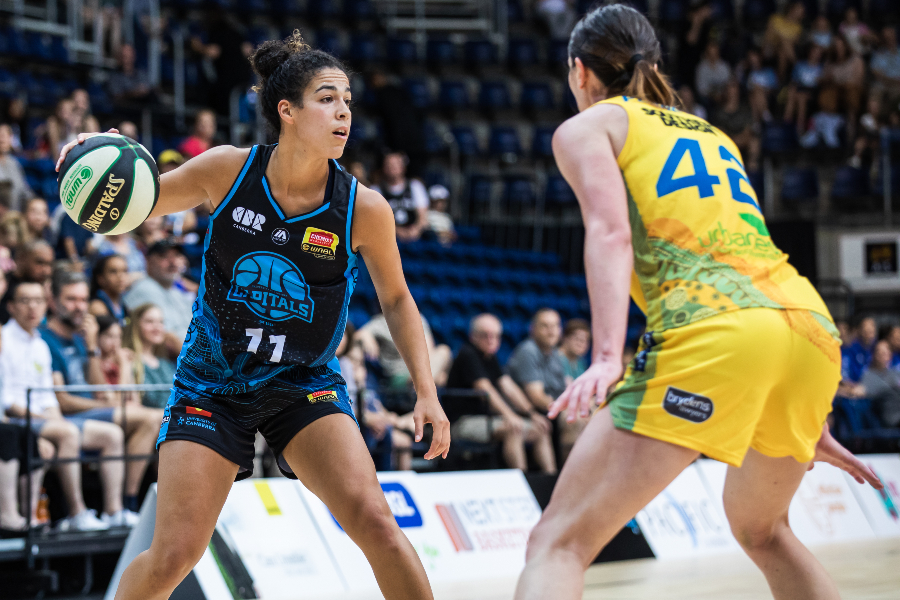 November 3, 2019 | UC Capitals news
The UC Capitals have claimed their 14th consecutive win at home over the Sydney Uni Flames, bouncing back from two losses last weekend.
The UC Caps made the statement they had hoped for after thrashing the Flames by 25 points 91-66 and playing the defense they had lacked against the Melbourne Boomers and Flames in Round 3.
"I never doubted this group with the talent, work ethic and heart we have. There was no way we weren't going to comeback and make a statement. This was a must-win for us and I had faith in the girls that we were going to get the win," said coach Paul Goriss.
"You learn more off losses than wins. We went back to basics this week. We want to be known as a defensive team and we needed more time to practice that and I think that helped us offensively and helped us today to have an edge. I thought we were tough all over the floor."
Tough all over the floor indeed as five players contributed points in the double digit with always-dominant Kelsey Griffin (19 points and 8 rebounds) and Kia Nurse (21 points and 4 assists), Olivia Epoupa (12 points, 8 rebounds, 10 assists, 4 steals) and Maddy Rocci (10 points, 4 assists).
But it was the punch off the bench in Keely Froling which earnt her the KJR Player of The Game for the second time this season. Froling, in almost 24 minutes, contributed 19 points and 7 rebounds and made this team relentless in every minute of the game.
Marianna Tolo (8 points, 9 rebounds) was back in the starting lineup and off restricted minutes but is still easing her way back in, playing just over 22 minutes.
Alice Kunek and Jessica Kuster led the charge for the Flames, putting up 17 and 16 points respectively.
The UC Capitals will have a short week as they head to Dandenong to play the Southside Flyers for the first time on Thursday night.