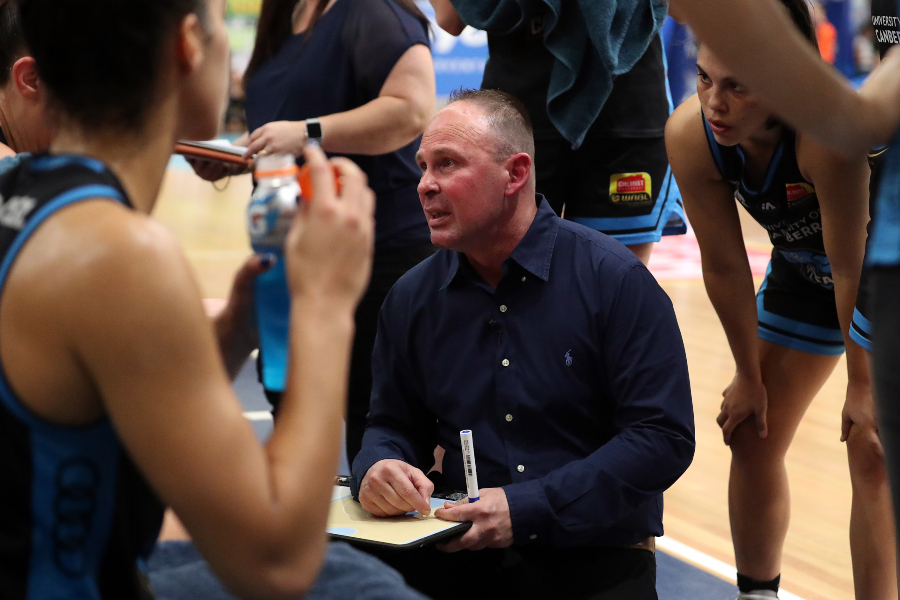 August 6, 2020 | UC Capitals news
With preseason due to begin on October 5, the UC Capitals are in their final stages of recruitment after the signing of Mikaela Ruef brought the roster up to nine.
Gemma Potter's future with UCLA remains in limbo due to delays in obtaining a visa but has until October 1 to let the UC Capitals know her plans.
Outside of Potter and her possible replacement, Goriss will only have the development player spots left to fill before he can close recruitment for the year.
In the meantime, Goriss is prioritising the physical and mental wellbeing of the team, juggling those in Canberra (Kelsey Griffin, Marianna Tolo, Keely Froling and Abby Cubillo) with doing what he can for those interstate (Alex Delaney, Britt Smart, Maddy Rocci, Tahlia Tupaea and Ruef).
Both Delaney and Tupaea have visited the Capital recently for check-ins while Rocci and Ruef are in Queensland where they'll soon begin playing in the State League.
This weekend will be Rocci's first game since her second championship win back in March and Ruef's first since returning to Australia after playing in the French league.
Delaney and Cubillo are also participating in the NSW Warratah League which tipped off last month.
Due to their involvement in the Australian Opals or the national 3×3 team, Tolo, Griffin and Froling have had access to the AIS training facilities which has helped them remain in great physical condition in an otherwise inactive period.
Smart is currently in Victoria and doing what she can while the state is in the midst of stage 3 and 4 lockdown restrictions, meaning access to courts is extremely limited. An early arrival in Canberra is being assessed.
Goriss is also looking to the WNBA and other codes to gain some insight on how to navigate the upcoming preseason.
"Our preseason is about seven weeks which is the longest pre-season we've had since I've been here.
"I think we are going to need that time and be really careful with workload in those seven weeks.
"Looking at other examples around the country and the world, like in the WNBA, there's been so many injuries just because people are coming back and going from zero to a hundred really quickly.
"I'll reach out to some people who have already been through that, like Sandy Brondello in the WNBA. I think they only had about two weeks for preseason whereas we'll have much longer.
"So, it's really about planning with our own staff, our physio, strength and conditioning and recovery people to work out the best plan for us and make sure the players get through it fit, healthy and without injury," said Goriss.