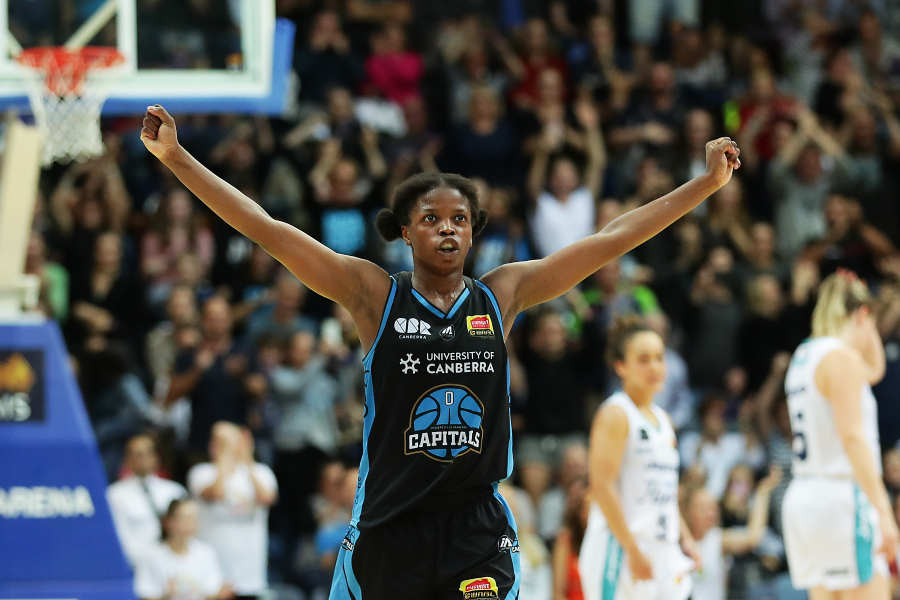 March 12, 2020 | UC Capitals news
Olivia Epoupa is returning home to France after an outstanding debut WNBL season with the UC Capitals.
Head Coach Paul Goriss promised Canberra a "lightning-fast" Point Guard when signing Epoupa, and she exceeded expectations with her mix of speed and skill.
Fittingly nicknamed 'Super Epoupa' or the 'French Burglar', she instilled fear in opposition guards and while often not tasked with guarding opposition top scorers, her impact was felt through her steals, deflections and, despite only being 165cm, her rebounding.
She led the league in steals, averaging 3 per game. She was 10th in the league in rebounding – the only guard on a list filled with Centres and Forwards.
She was awarded the Rachel Sporn Medal for being named the Most Outstanding Player in the Championship Series and claimed the UC Capitals' Kellie Abrams Defensive Player of The Year award this week at the MVP Night.
Upon reflecting on her season, Epoupa recognises how much her game has developed, but it is the welcoming nature of Canberra which was the highlight.
"All the people that were involved in this club, the fans, they were amazing.
"The last game at home with the win had an incredible atmosphere. The crowd was here, and they make the difference.
"It was a tough game and Southside played very well, but the crowd pushed us. When they give us that atmosphere, you give everything, you don't get tired or want to take a break. It could be the last game, so you give everything because you know you have all this support.
"I'd like to say thank you to everyone who supported us.
"I never felt homesick because as soon as I arrived here all the people made me feel comfortable. I was in a new country and I tried to keep an open mind and learn about the country and the people," said Epoupa.
Epoupa will spend a short amount of time in Melbourne and New Zealand before ending her journey in Paris, where she will soon ramp up Olympic preparations with Team France.
The UC Capitals thank Epoupa for an amazing season and look forward keeping an eye on her career to come.