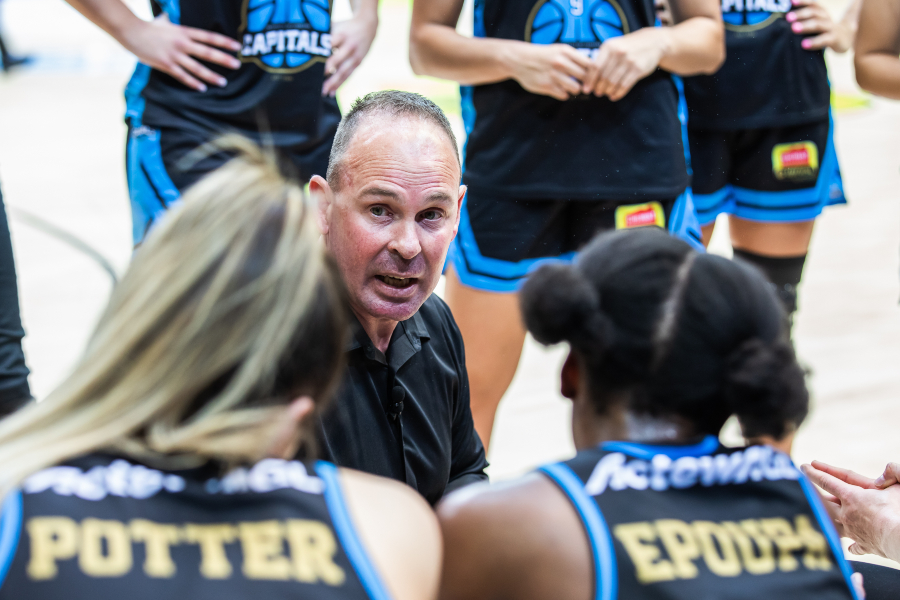 February 17, 2020 | UC Capitals news
UC Capitals' Head Coach Paul Goriss has taken out the WNBL Coach of The Year for the 2019-20 season.
Goriss, who steered the Caps to a second-place finish, polled 22 votes to win from Southside Flyers' Cheryl Chambers and Melbourne Boomers' Guy Molloy on 20 votes. Adelaide's Chris Lucas (13 votes) and Sydney's Katrina Hibbert (12) rounded out the top 5.
Goriss said he is honoured to have received the acknowledgement.
"To be singled out amongst so many great coaches in the WNBL is very humbling. It an honour and privilege to access this award.
"Every coach has done a tremendous job with their team this year in the 40th season and it was a very competitive season.
"Our behind the scenes staff from sponsors, management, admin, media and game day volunteers are all a part of this award. The people of Canberra, our amazing fans, this is your award. I could not accept this award without acknowledging the great work of our support staff from physio, massage, strength and conditioning and medical staff. My assistant coaches who work tirelessly to help myself and the players are a critical and huge part of our team's success.
"But the special ones who really I want thank are the players for allowing me to coach them, for buying into our vision and goals and who work their butts off every day in pursuit of excellence and a championship," said Goriss.
This is Goriss' first WNBL Coach of The Year award and comes after leading his team to a championship win last year.
"I have been fortunate to coach an amazing group of genuine, caring and professional athletes at the UC Caps. They have helped me grow as a coach and I have been fortunate to coach some of Australia's best, including Kelsey Griffin, Marianna Tolo, Leilani Mitchell and Kelly Wilson, and some of the world's elite players like Kia Nurse and Olivia Epoupa.
"It is building relationships with these players that I value the most. They have terrific character, amazing team chemistry and their faith and belief in me to lead this team is undying. We have each other's back all the way, that's what makes us such a special team," said Goriss.
This is the UC Capitals' second WNBL award for the season after Kia Nurse was announced as MVP on Friday.
With the UC Capitals heading into game two of the semi-final series this weekend, after a successful 14-point win for game one, Goriss' job is only just ramping up as the team eyes back-to-back titles.