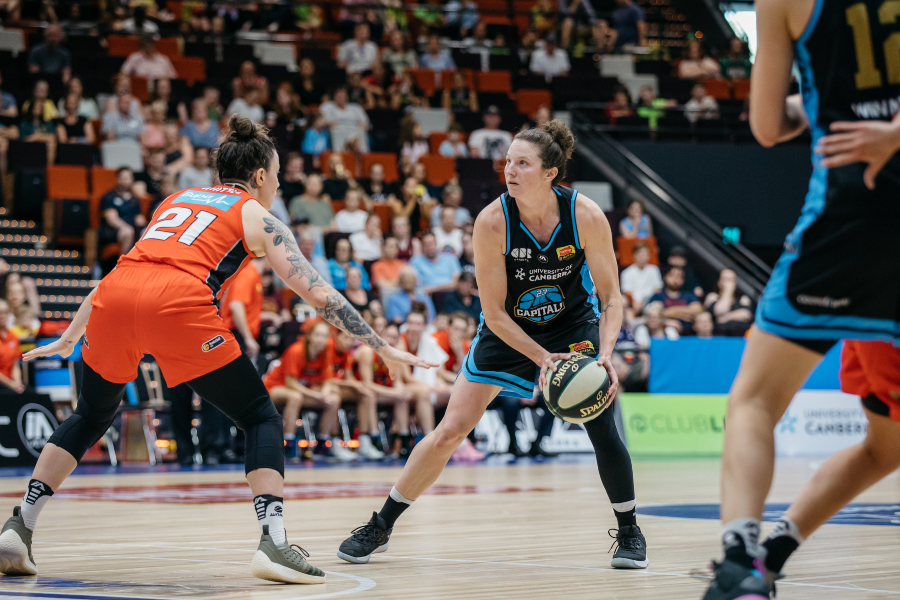 November 25, 2019 | UC Capitals news
The UC Capitals have extended their home game win streak to 15 after a thrilling 84-66 over the Perth Lynx.
Over 1600 people packed into the National Convention Centre Canberra, the UC Capitals' highest attended game of the 2019-20 season so far, to witness the first clash against Perth since the semi-final last season.
There were only a few points between the teams for most of the game and it looked like Perth could have had their fourth OT game of the season on their hands, but the UC Capitals 32 point final quarter, compared to the Lynx's 12, ended their chances.
Things finally clicked during the final quarter for the UC Capitals, who up until that point struggled with their defense.
"We were actually getting stops, we weren't relying on our offence. We found our identity and that's who we really want to be," said captain Kelsey Griffin.
"We definitely started vibing off each other. Shots become easier which meant less scoreboard pressure. It was a lot of fun."
Griffin's 19 points and 15 rebounds while under the weather earnt her the KJR Player of The Game. Despite barely being able to talk during the post-game press conference, Griffin made clear her passion for this game.
"I put everything into my game, I've been playing for a long time now and I try to do everything I can to get my team across the line. That comes across as a bit of aggressive, but it's coming from a good place, I promise."
Marianna Tolo, who just came off a trip to Malaysia with Australian Opals, joined Griffin in putting up a double-double with 12 points and 10 rebounds. Kia Nurse (18 points, 7 rebounds) and Maddy Rocci (12 points) both had an impressive game.
Perth, still missing their star import Imani McGee-Stafford (ankle injury), leant on Lauren Mansfield (23 points) and Alison Schwagmeyer-Belger (19 points, 7 rebounds) to keep the team's points ticking.
The UC Capitals will now prepare for Saturday night's game two clash against the Townsville Fire. To purchase tickets, click here.