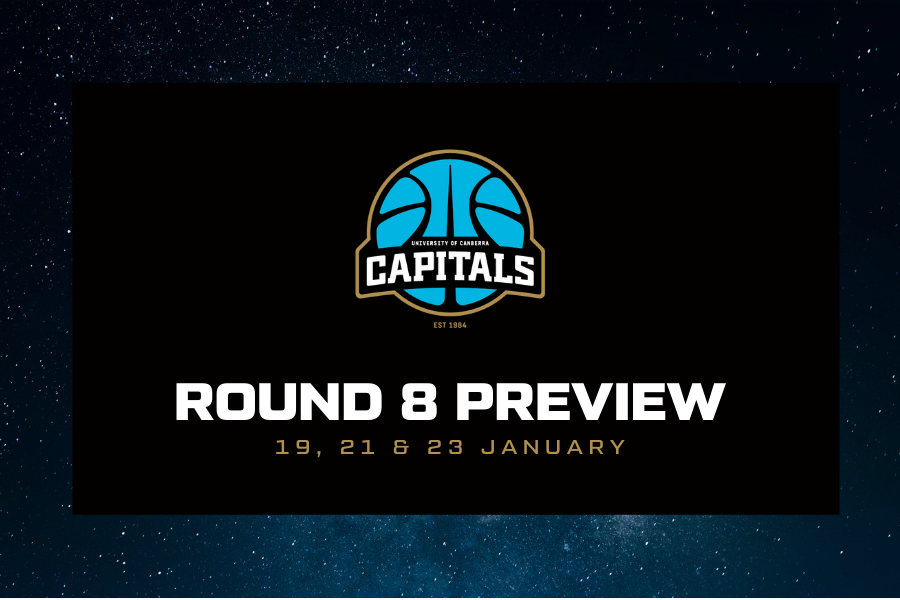 January 18, 2022 | UC Capitals news
The UC Caps are in for a busy Round 8, with three games in five days against the Perth Lynx, Southside Flyers and Bendigo Spirit.
After two weeks of no games and then a disappointing loss last week, the Caps will be looking to find their consistency and rhythm to earn consecutive wins.
UC Caps vs Perth Lynx
When: Wednesday, 19 January at 7:30pm
Where: Ballarat Sports Event Centre
How to watch: Kayo Free
The UC Caps got off to a slow start on Friday night against the Perth Lynx, trailing by 18-points after the first quarter which proved costly, ultimately going down by 19-points.
One of the benefits of this disruptive start to the season is that the Caps will get another crack at the Lynx on Wednesday night, just five days later, to get redemption.
Perth are coming off a seven point loss to the Melbourne Boomers and will play their fourth game in seven days on Wednesday night. The Caps mustn't underestimate their potential, though, as a loss could have reignited their fire.
The Lynx had five players reach double digits in the last game with their scoring, including Marina Mabrey who was named the Round 7 WNBL Player of The Week.
Casey Samuels believes the Caps will need to pick their poison to have a chance at the win.
"We know [Marina Mabrey] is going to score. If we can lock down the other players and limit them to one scorer; I think that's a good job done there."
UC Caps vs Southside Flyers
When: Friday, 21 January at 7:30pm
Where: Ballarat Sports Event Centre
How to watch: Kayo
The UC Caps will back-up their Perth rematch on Friday night with their first game against the Southside Flyers.
Tahlia Tupaea, who just played her first game since returning from a shoulder injury, is confident the packed schedule won't impact the team's performance.
"Three games coming up is going to be really tough, but we have the team to do it, we have the coaching staff, so we'll all get on board and work out how we're going to do it."
For Caps fans, the Southside game will be the first time you'll see Kristy Wallace and Maddi Rocci in a different uniform. Both players started their WNBL careers with the UC Caps and have become valuable contributors to the Southside Flyers this season.
The matchup between Britt Sykes and Rebecca Cole will go a long way to deciding the game.
Cole is leading the Flyers in scoring with 18 a game. She's shooting 47% from the floor and 46% from three. She is a threat to score all over the floor. Sykes will need to use her length, speed and athleticism to take looks away from Cole and alter shots in the paint with her long arms.
Sykes will also be relied on to continue scoring. She currently leads the Caps with 16 a game. If Sykes can make Cole work hard on the defensive end, it'll zap Cole of energy late in the game and force the ball into someone else's hands.
UC Caps vs Bendigo Spirit
When: Sunday, 23 January at 1pm
Where: National Convention Centre Canberra
How to watch: Kayo
For the final game of Round 8, the Caps will get their second look at the Bendigo Spirit.
The last time they met the Spirit, the Caps put on an offensive display and came away with the victory 100 – 88.
Most pleasing is that the Caps could win convincingly without captain Kelsey Griffin. The Caps went to work in the paint to the tune of 54 points and finished with a 57% shooting clip.
For Bendigo, it was a coming-out party for Anneli Maley, who dropped 38 points and pulled down twenty rebounds, including nine offensive boards.
The Caps will need to keep Maley off the offensive glass to have a chance in this one. Having Kelsey Griffin back will go a long way to slowing Maley down. But Bunton, Ruef and Froling will all need to put in strong defensive shifts to keep her quiet.
Round 8 is crucial for the Caps. Three wins would firmly cement them at the top of the table. But with three games in five days, the whole roster will need to dig deep and execute their jobs to pull it off.
Either way, it's a great week to be a Caps fan!
To purchase tickets to Sunday's home game, click here.