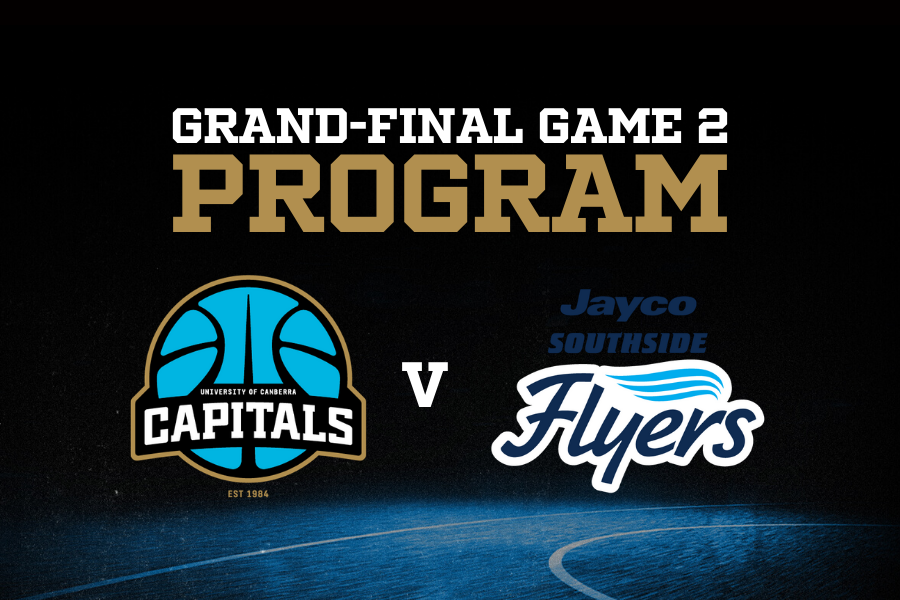 March 4, 2020 | UC Capitals news
Grand-Final Game 2:
UC Capitals V Southside Flyers
Wednesday, 4 March
7:30pm tip-off 
AIS Arena
Tickets: click here.
Game Day Program: click here.
Live stats: click here.
Watch live: Fox Sports or Kayo
—
The UC Capitals got the job done in the grand final series opener in Melbourne on Sunday, but celebrations ended as soon as they walked out of Dandenong Stadium.
Kelsey Griffin, who had a double-double of 18 points and 12 rebounds, made it clear to her group – "we haven't done anything yet". The Capitals have been stung by the sense of security of that game one win before; last year in the Adelaide grand final series and just last week in the semi-final against the Boomers.
While the game one win undoubtedly takes the pressure off the next game being a sudden death situation, it cannot remove any fight or will to win.
"We can't relax, we have to want it more. Even though we have one game up, it really doesn't mean a lot, especially against a team that is so capable like them.
"We have to do it from the jump, we can't take the first quarter to relax and get into our game – it's going to take 40 minutes of basketball," said Griffin.
The Capitals won by just two points in game one after spending most of the game catching up from narrow leads by the Flyers. All the difference came down to the fact that the UC Capitals were able keep the Flyers scoreless for the final two minutes and 26 seconds of the game.
Now, the Flyers have their backs up against the wall which means the UC Caps can expect an even tougher fight on their hands.
That's not to say that Southside didn't play well in game one. Bec Cole, for example, got away with 19 of her game-high 23 points within the first half. Their captain, Jenna O'Hea, put up 14 points and 6 rebounds in her first game back in six weeks.
Marianna Tolo did well to defend against Mercedes Russell who had 13 points and 9 rebounds. This was comparatively a quieter game for Russell who averages 16.6 points per game, and so she may be the one to improve the most in this do or die game.
Maddison Rocci will have to play through injury after suffering a minor wrist sprain during the game on Sunday. However, after being told it may have been broken upon first examination, this was a much better result and means she was given the all-clear to play.
The UC Capitals home crowd will be the team's greatest weapon once again. The Caps are fast approaching a sell-out at the AIS Arena as Canberra unites in hopes to see a back-to-back championship.
The Southside Flyers are the only team to have defeated the UC Capitals at home since October 2018, putting an end to their impressive home game win streak in Round 9.
However, Head Coach Paul Goriss said that the Flyers can expect a whole new level of energy from Canberra than that game at the National Convention Centre.
"That loss was on a different court and such a long time ago. We'll wait and see but playing here in this venue is a different scenario that they wouldn't have encountered this season.
"I will never forget game three last year walking through the tunnel and getting goosebumps seeing our huge crowd and the vibe and energy they gave.
"When we're playing well and the girls make shots, the energy in the AIS Arena is like nothing else in the league and no one can match it other than Canberra. It's exciting and it's our task to get the job done," said Goriss.
Those memories will be fresh in the mind of former Capital Leilani Mitchell, who put up 15 points in game one and will look to play against the roars of Canberra.
"That is our X factor – our home crowd is amazing, and I have no doubt that Canberra is going to show up," said Griffin.
If things don't go their way, the grand final series will be forced to game three back at Dandenong Stadium on March 9, where the Capitals will have to overcome the Flyers home crowd again.
So, this is it: the UC Capitals will look to win their ninth championship at the Arena tonight, as they did so last year to break a nine-year drought.
It comes down to one more home court win – the one thing that, despite a rocky season full of unexpected changes, injuries, uncharacteristic losses and some low moments, the UC Capitals were always able to hang their hats on. This is our house.