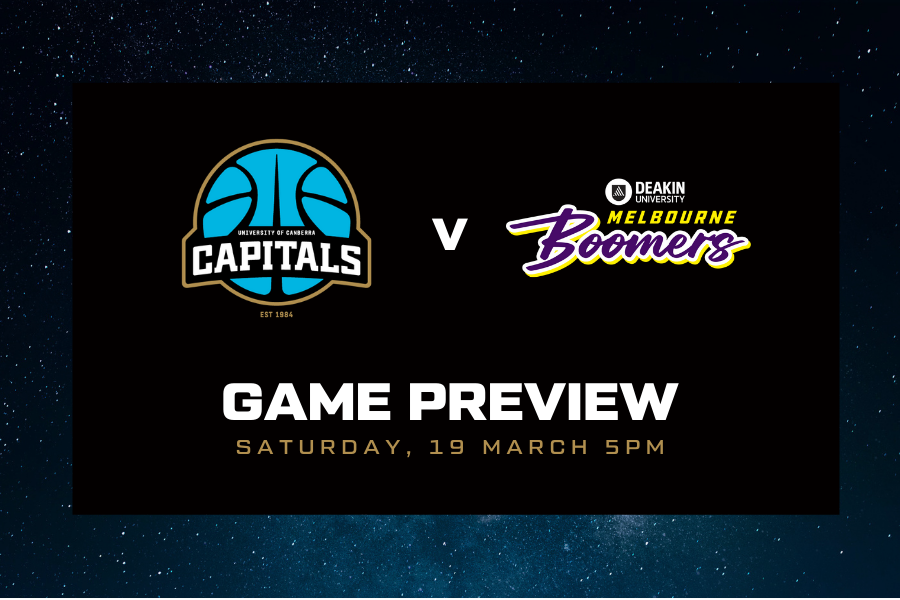 March 18, 2022 | UC Capitals news
When: Saturday, 19 March at 5pm
Where: Melbourne Sports Centres – Parkville
How to watch: Fox Sports and ABC
The UC Capitals will need to win against the Melbourne Boomers on Saturday evening to keep their home court advantage hopes alive for finals.
The Perth Lynx have won their first of two games against the Townsville Fire on Friday night. If Perth are able to back it up when the two teams meet again on Sunday, they'll cement their place on top of the table.
However, if Perth lose and the UC Capitals win against the Boomers, the top spot will belong to Canberra.
As the UC Capitals are currently on an equal 11-5 record as the Melbourne Boomers, a loss could see us drop to fourth if Adelaide win against the Southside Flyers.
While there are several scenarios that could play out, it's clear that Saturday's clash is crucial for the UC Caps to secure home court advantage.
The first and only time these two teams have met this season so far was in Round 12, when the Boomers pulled off a two point win despite struggling to find their rhythm until the second half.  Melbourne's Lindsay Allen proved to be a challenge for the UC Caps, putting up 29 points and eight assists to lead her team to the win.
The Boomers have threats across the floor, though, and the UC Caps will also have to be wary of their leading point scorer, Ezi Magbegor, who is averaging 16 points per game, as well as Cayla George and Tiffany Mitchell.
The Melbourne Boomers are coming off a win to the Adelaide Lightning last week after an upset loss to the Bendigo Spirit the round before.
The Boomers will have had almost a full week between games and the benefit of being at home while the UC Capitals are on their third road trip within a week.
The travel fatigue may have partly explained the UC Capitals lowest scoring game and loss to the Lightning last week as the team scored just 50 points.
We know a loss can light a fire under the UC Capitals, though, so expect the team to step onto the court with a vengeance.