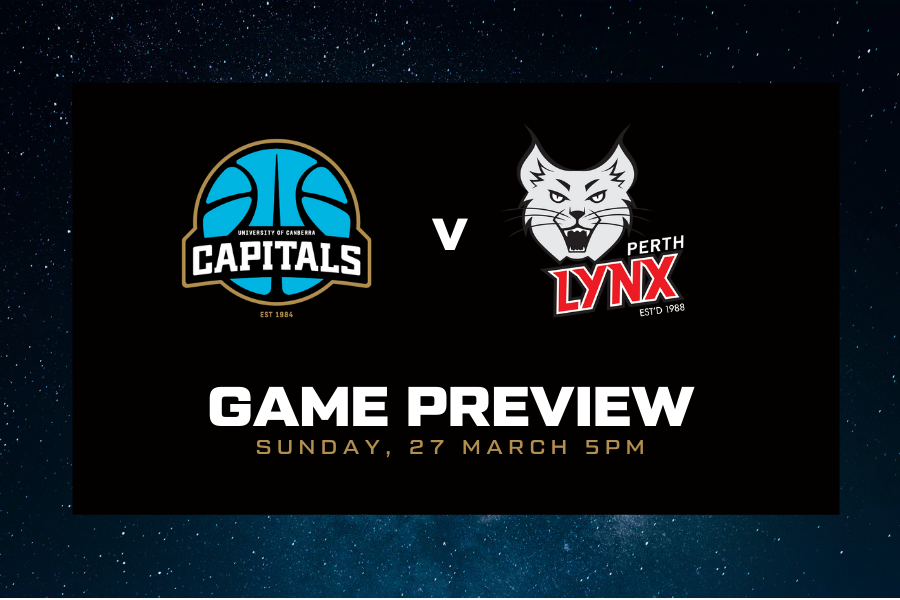 March 26, 2022 | UC Capitals news
When: Sunday, 27 March at 5pm
Where: Southern Cross Basketball Stadium, Tuggeranong
How to watch: ABC iView, Kayo or FOX Sports
The UC Capitals have just one last shot to keep their championship hopes alive in Game 2 of the Semi-Final Series against the Perth Lynx.
For the first time in five weeks, the Caps will play at home and will need the loud and proud Canberra crowd to carry them to a win.
On track for a sell out at the Southern Cross Basketball Stadium in Tuggeranong, the raucous fans will be crucial to picking up the UC Capitals energy.
The UC Capitals had a disappointing start to the semi-finals, going down to the Perth Lynx 77-91 on Thursday night.
Now on a three game losing streak, the UC Capitals have struggled to find their momentum lately, not helped by the fatigue from five straight road trips, including two to Western Australia.
Despite the intense schedule, the UC Capitals know there were a number of things within their control that led to the recent loss. Britt Smart conceded after the game that the team was a bit stagnant in their offense in parts.
Travelling home, recovering, getting familiar with the Tuggeranong court and polishing up their game have been the focuses of the past two days.
The Perth Lynx will be coming to Canberra with a spring in their step having bagged Game 1. If the UC Capitals pull off the win, the Semi-Final will go to Game 3 for the decider giving the Lynx a second chance the Caps can't take comfort in.
A loss may end the UC Capitals' season, but the team isn't wavering under that pressure, only letting it fire them up more with their eyes still firmly set on the championship.
Don't miss this must-watch game as the UC Capitals look to defy expectations after an adversity-filled season.
Limited tickets remain, buy yours here.
To view the game day program, click here.
___________________________
GAME DAY INFO
Doors open at 4pm tip off at 5pm.
Download your tickets from Eventbrite and have the QR code ready for scanning upon entry.
Get to the game early to allow time to get a park, grab something to eat and drink and find your seat.
Best parking options near the Southern Cross Stadium in Tuggeranong are located at the Services Australia building, the Vinnies carpark and South.Point Tuggeranong shopping complex carpark.
Make any purchase at the merch stand to go in the running to win a signed Jade Melbourne jersey.
Bring along your home-made signs for your chance to score prizes.