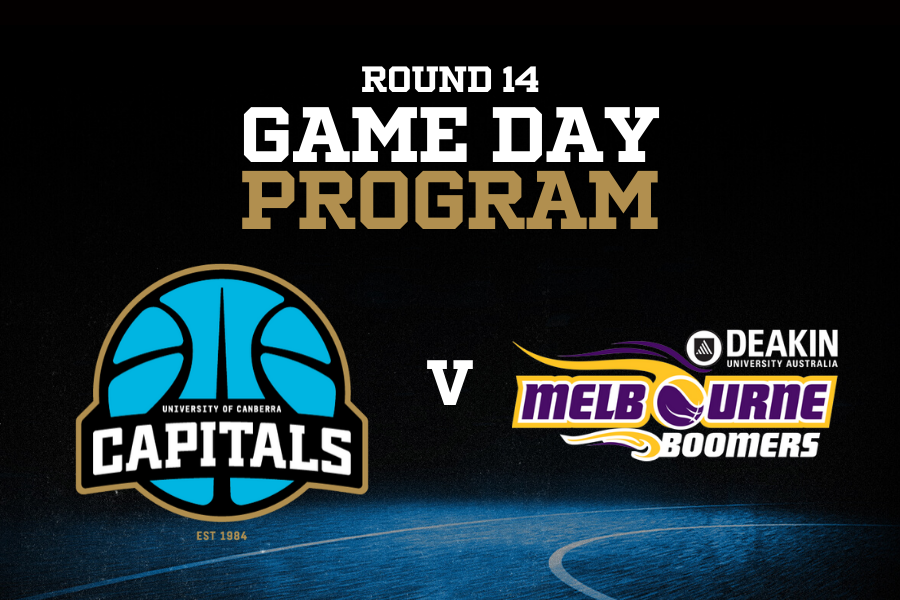 January 16, 2020 | UC Capitals news
UC Capitals V Melbourne Boomers
Friday, 17 January
7pm tip-off 
NCCC
Tickets: click here.
Game Day Program: click here.
Livestream: click here.
Live stats: click here.
—
A couple weeks later than originally planned, but the first UC Capitals' first home game of 2020 is here.
The game also marks the first of four the UC Capitals are due to play within just 10 days. It's going to be gruelling and opportunities to train will be limited, but it may also spark the momentum the UC Capitals need as they look to playoffs.
The UC Capitals are coming off two uncharacteristic losses to the two bottom teams, the Bendigo Spirit and Townsville Fire. Despite some lackluster offense, Head Coach Paul Goriss was mostly disappointed with the team's defense letting the Spirit and Fire away with 94 and 102 points respectively.
Fortunately, the UC Capitals held their third-place spot on the ladder but there's little keeping the Adelaide Lightning from taking over as they sit too close for comfort behind us.
Earlier in the week there was hope that Kelsey Griffin may be healthy enough to make her return as she started training again. However, in another potential setback for the UC Capitals, Griffin hurt her hamstring on Tuesday. While the injury is minor, it means the team will have to make do until she's given the all clear.
So, the UC Caps will charge ahead into Friday night's game with the MVP on the sideline as they desperately try to find their rhythm again before they enter their toughest run of the season.
The Melbourne Boomers' star import Lindsay Allen sat out of their last game against the Southside Flyers and it is currently unknown whether she'll be back in for Friday. Either way, they will be coming off a loss and determined to secure the series split over the UC Caps to hold their second place on the ladder.
If the UC Capitals can turn things around, however, this will bring us within reach of second and keep the Lightning at bay. There's a lot on the line, but after spending almost a month on the road, the home court advantage will certainly make a difference.
Marianna Tolo and Keely Froling will have their work cut out for them as they goes up against Melbourne's two bigs Ezi Magbegor and Cayla George, while the two WNBA players Kia Nurse and Sophie Cunningham will go head to head.