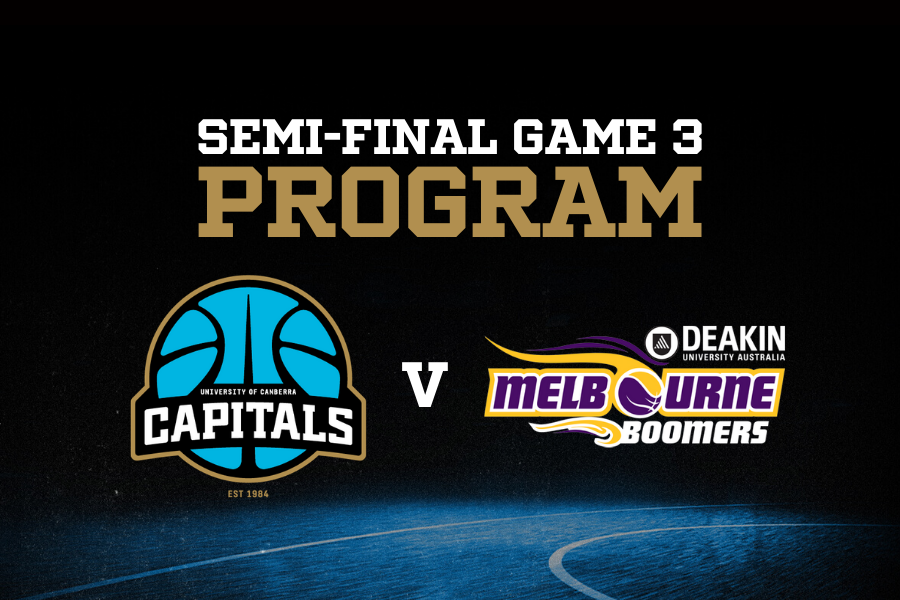 February 26, 2020 | UC Capitals news
Semi-Final Game 3:
UC Capitals V Melbourne Boomers
Wednesday, 26 February
7:30pm tip-off 
AIS Arena
Tickets: click here.
Game Day Program: click here.
Live stats: click here.
Watch live: Fox Sports or Kayo
—
It's do or die for the UC Capitals.
The Caps were aiming to sweep the series in two to cement their place in the grand final after a 14-point win in game one boosted their hopes.
The Melbourne Boomers played with a sense of desperation that the Caps couldn't match, though, and after a 12-point defeat, the series was forced to a game three decider.
The Caps put their loss down to their lack of defence and trouble gaining momentum, but Maddy Rocci says that the team is looking forward to redeeming themselves come game time.
"We're ready. We're going to put behind us what happened in game two. We were obviously super disappointed with our efforts and the way we played.
"We knew they were going to come out firing and we knew we had to stop them, but we just couldn't find our momentum.
"We're ready for game three in front of our home crowd and ready to get that win to head into the grand final," said Rocci.
In particular, shutting down Lindsay Allen and Maddie Garrick will be key for the Caps to limit the Boomers' damage on the scoreboard. Allen put up 17 points in game one followed by a game-high 25 points in game two, while Garrick added 16 and 17 respectively.
Gemma Potter played a pivotal role in defending Allen in game one, but after spraining her ankle during training, she's been sidelined and constrained in a moonboot. It is unlikely Potter will return to the court tonight meaning Goriss will look to Keely Froling, Alex Delaney and Abby Cubillo off the bench to fill that role.
The Melbourne Boomers, on the other hand, will be all over Kia Nurse and Kelsey Griffin as they did in game two, so it will be crucial for the Caps to get the ball moving and get the rest of the team in the game.
Marianna Tolo said that getting on a roll early will make all the difference.
"We need to play more to our strengths. We were letting them dictate the pace and dictate the game and we need to control that tempo by taking our time and being on the front foot first.
"Melbourne are a confidence team – when they get rolling, they can really get rolling. You can see that by Maddie Garrick's shooting last time," said Tolo.
That's exactly what happened in the second quarter on Sunday when Melbourne got away with 26 points which ultimately kept the Caps at bay for the rest of the game.
The home court advantage will be the Capitals' greatest weapon in this sudden death game, particularly because Canberra fans are fired up after the incident involving Sophie Cunningham and Keely Froling.
Cunningham was fined $250 for striking Froling in the face with an open hand which the WNBL's Incident Review Panel graded as "Careless, low impact, high contact". Froling, whose elbow collided with Cunningham before the strike, was not charged.
Expect another highly physical game tonight typical of the Caps and Boomers match up, but hopefully without any further incidents to detract from the game.
Be sure to arrive early to see Head Coach Paul Goriss presented with his Coach of The Year award in a pre-game ceremony tonight.
The Capitals hope their crowd will be louder than ever tonight as their season hinges on one more win before the championship becomes within reach.