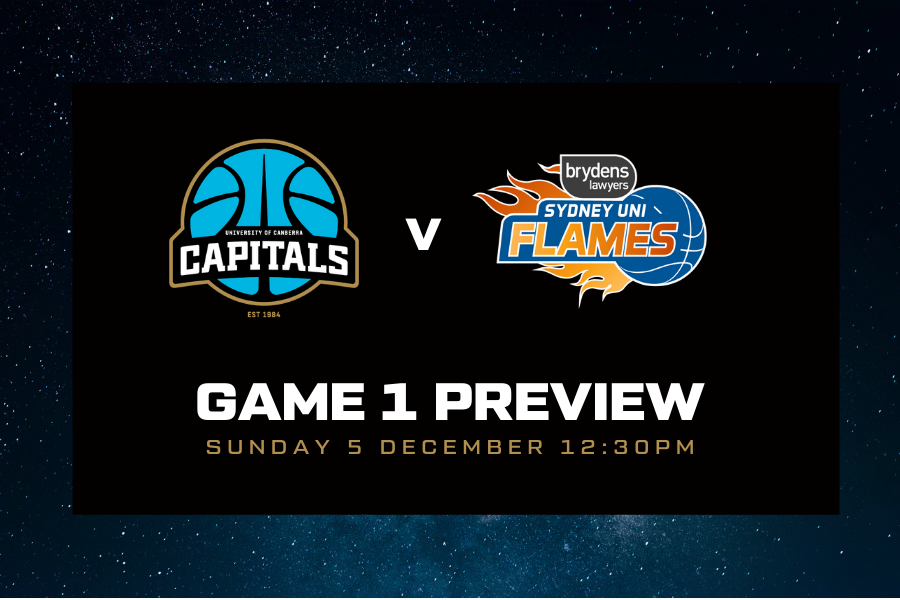 December 3, 2021 | UC Capitals news
When: 5 December, 12:30pm tip-off
Where: Qudos Bank Arena, Sydney
How to watch: Kayo Free
We're finally here: the UC Capitals will tip-off the 2021/22 season this Sunday on the road, taking on the Sydney Uni Flames on the big stage at Qudos Bank Arena.
The Caps have completed six weeks of pre-season – almost twice as long to prepare as they had last year – and the team is ready, now just itching to play.
WNBA import Britt Sykes will make her WNBL debut, Kelly Wilson and Alex Bunton will make their comebacks, and a healthy Kelsey Griffin will tip off the season with the Caps for the first time without niggles or injury.
If that's not enough to get you excited, the big match-up to watch is, of course, the competitive Froling twin sisters as they go head-to-head.
We got a taste of this last season when Alicia made her WNBL debut and it was Keely who finished on the winning side each game, but now team dynamics have shifted. Nonetheless, Keely's already put the call out on her sister, quoted earlier this week saying, "She's gotta watch out. She has a target on her back and she's gonna get knocked off her high horse."
If you're familiar with the Froling family, you'll know this sort of family rivalry is to be expected. Alicia is unphased, though.
"She's been throwing some sledges over the radio I've heard, but I haven't noticed it, so I don't know. She likes to talk a big game, but we'll just wait and see on Sunday.
It's just intense and another level of competitiveness. I don't think we want each other to one-up another."
However, Head Coach Paul Goriss isn't looking to fuel the fire, instead looking to Kelsey Griffin and Mikaela Ruef to stop Keely.
"It's always a battle when those two play against each other. At times they nullify each other if they're matched up because they just thug each other so hopefully we'll keep them separate as much as possible and let them be themselves."
"It's a Froling trait that they'll come in and work hard. She's definitely a different kind of player than Keely as well, she's more of a five and a finisher around the basket."
Lastly, keep an eye on the two young guns Jade Melbourne and Sydney's Shyla Heal as they go head to head after both had breakout debut seasons last year in the hub.