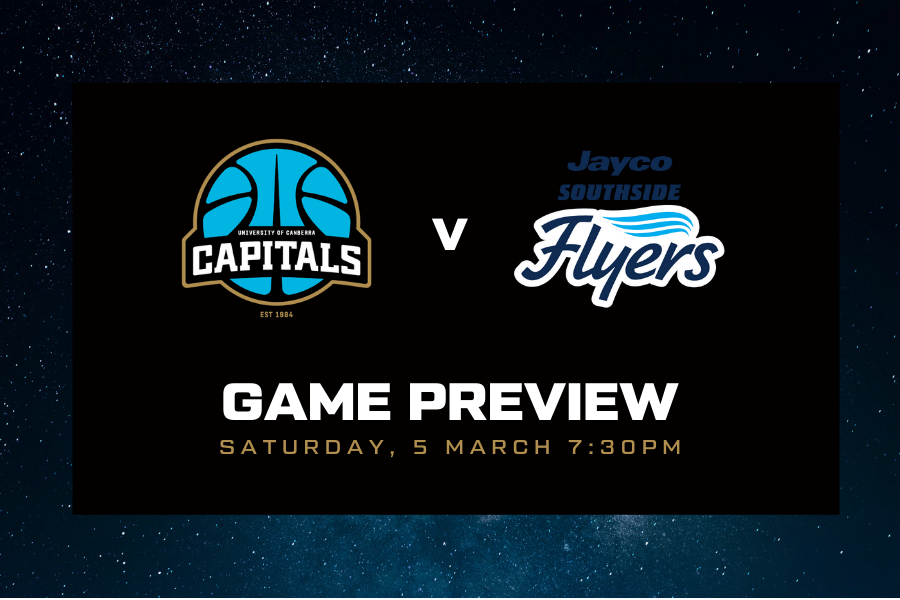 March 4, 2022 | UC Capitals news
When: Saturday, 5 March at 7:30pm
Where: Dandenong Stadium
How to watch: Kayo
The UC Capitals are meeting the Southside Flyers for the first of four road trips in three weeks tomorrow night.
Coming off a loss to the Melbourne Boomers last week which ended their six game win streak, the UC Caps have honed in on a number of adjustments they needed to make.
The team has also had to rethink their starting five this week in light of Mikaela Ruef's season ending finger fracture.
Head Coach Paul Goriss acknowledges how disappointing and disruptive losing Ruef is but said that he's confident the team has the depth to push through.
"Everyone copes with injuries and other teams have had to deal with it so while we feel for Mik, we have to be flexible and adaptable in these times. We'll have to deal with what we got and make adjustments along the way.
"I think we're lucky that we've got depth in both the guards and the big spots, so it's just more court time and opportunity for Alex Bunton and Alicia Froling.
"Alex is ready for it and she probably has been ready for it for a couple of weeks. It's just that we've been lucky that Mik's been playing well."
Southside's luck hasn't turned around since the last time the UC Capitals met them in early February, having lost every game since which dropped them to second last on the ladder.
"Obviously they've had a run of injuries and some of their players have been in and out, but they're one of those teams that on their day can score with anyone," said Goriss.
"We know what Maddy Rocci can do, Aimie Rocci is super fast and physical and can run the floor really well, Bec Cole can light it up at any stage, and recently against Bendigo Jenna O'Hea probably had her scoring game of  the season and shot the ball really well.
"I think they are the dangerous underdog who have nothing to lose with their playoff hopes dashed.
"We've just got to make sure we're on task. We know that we scored big over them last time but they didn't have their whole group here, so I think for us it's maintaining that rhythm offensively, especially after the Melbourne game where we found some areas that we really need to adjust and take care of. It's also about being focussed for the 40 minutes against a team that we can't expect to just turn up and win."
While the string of road trips and games against the top three teams is on everyone's minds, Goriss said that the focus for the team is to not get too far ahead of themselves.
"It's just about taking each game as it comes. It's going to be challenging for us because we've been at home for such a long stretch and now we're packing up and going on the road every week, but it is what it is and I think this is kind of getting us ready for finals basketball where we will have to travel and play in those best of three scenarios."
"It's critical to be able to look at those games and those teams and be prepared to make changes on the run knowing that we'll more than likely play Perth, Adelaide and Melbourne. It gives us an opportunity to try some things or look at how we want to play them both for now but also leading into finals that we may want to adjust."