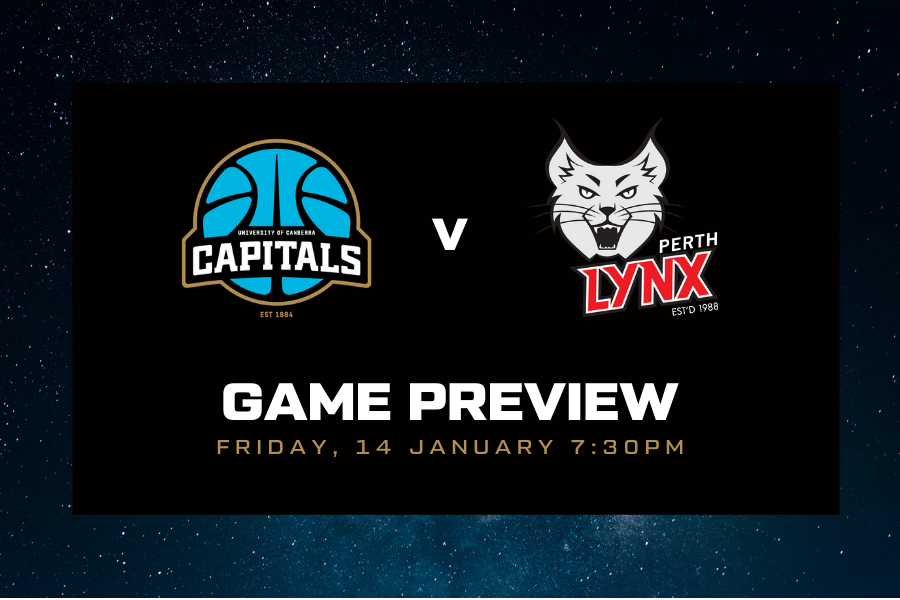 January 13, 2022 | UC Capitals news
When: 14 January, 7:30pm
Where: National Convention Centre Canberra
How to watch: Live at the NCCC or via Kayo Free
After a two-week hiatus, the UC Caps will be back home for their first look at the Perth Lynx.
The UC Caps are eager to get back on the court after having their last three games called off, two of which were just hours before tip-off.
UC Caps star import Britt Sykes acknowledged it's been tough but emphasised the team is blessed to be in this position.
"We just look forward to practicing and just getting better. I think we have to find the silver lining in things. It's a blessing to still be healthy and be one of the teams that are not having the positive cases."
She also highlighted that the other big silver lining is that Kelly Wilson will get to play her 400th game at home after all.
"After all the BS that's been going on, we still get to celebrate Kelly's 400th at home."
But again, she highlighted that it wouldn't be a distraction for the team and Kelly.
"To be honest, at this point, we just want to play! For it to be Kelly's 400th, of course, it adds sprinkles on top, but we go out every game and try to win."
The Perth Lynx have had a late start, only playing their first game in Round 5. They split their first two games, which were both close encounters.
Acting Head Coach Kennedy Kereama stressed that they're a team that the UC Caps shouldn't take lightly with threats all over the floor.
"I've known [Perth Lynx] Coach [Ryan] Petrik for a long time now. Any team I've seen him coach, they're always very well organised, very disciplined and run good structure."
"He's put together a great team – he's getting a lot out of Lauren Scherf and Darcy Garbin has come a long way from when I was coaching in Perth, but obviously adding Sami Whitcomb, Marina Mabrey and Jackie Young, that's just a formidable group."
Kereama added that "they do a bit of everything, they're a great perimeter shooting team, they've obviously got great post presence, post players can stretch the floor, they're great in transition, they run a lot of pick and roll.
"So, there's going to be plenty of areas that we're going to have to put special attention."
The key match-up in this one will be between both teams' backcourts.
For Perth, Mabrey, Whitcomb and Young are all a threat to score from deep, all shooting over 35% from the three. Equally, they threaten to take it inside and score themselves or kick it out to an open teammate as each are averaging more than three assists per game.
For the Caps, this will mean Sykes, Wilson, Melbourne, and Smart will have to work hard to take looks away from the Perth trio.
At the offensive end, the Caps will look to build on what they achieved against Townsville in their last outing.
They had success in that outing as they displayed what it looks like to run a real team offense. The Caps showed their ball movement and their work off the ball against Townsville. The result was a high shooting clip (38% from deep and 49% overall) and a massive team assist tally (26).
To best the Perth Lynx, they will need to find that ball movement again.
This week look for contributions all over the floor from multiple players on both teams.
Round 7 is also Reach Out Round, proudly supported by Lifeline, Beyond Blue, Headspace Ballarat, Kids Helpline and Reach Out Australia. The WNBL is shining a light on continuing the conversation that it's ok to not be ok and use this round as a reminder to check in regularly with loved ones.
To purchase tickets to the game, click here.