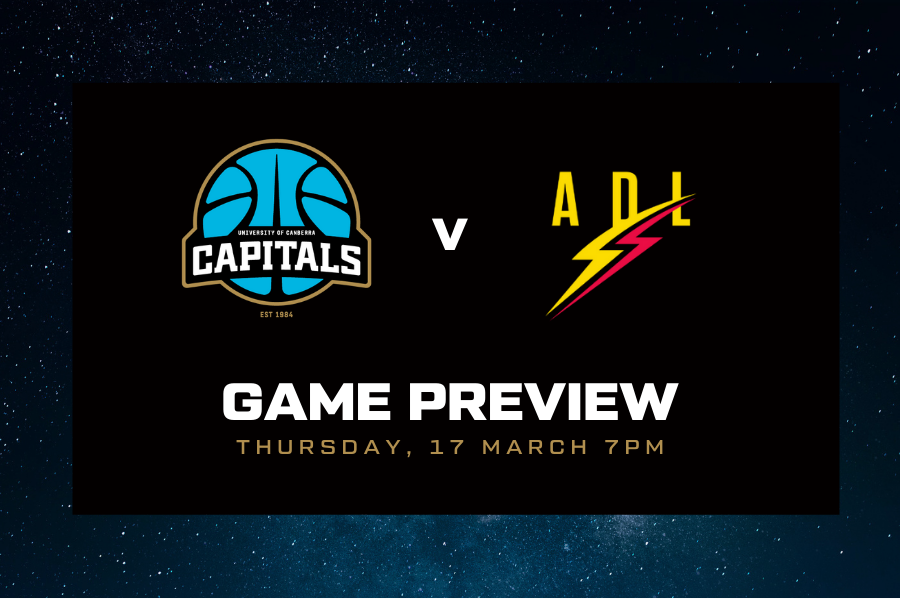 March 16, 2022 | UC Capitals news
When: Thursday, 17 March at 7pm (7:30pm AEDT)
Where: The Lights Community and Sports Centre
How to watch: Kayo Freebies
It's the last round of the regular season and the UC Capitals have hit their stride, sitting first on the ladder after toppling the Perth Lynx.
Head Coach Paul Goriss said that defeating the ladder leaders and clinching their spot in finals has been a challenging journey.
"This team has been so resilient in how much they've had to deal with on and off the court from my suspension, COVID and games getting cancelled on the day of, and recently that win against Perth without 3 of our players.
"They continue to amaze me as both people and players to get results that I don't think anyone predicted at the start of the season."
Round 15 will be a significant challenge with two road trips to meet two top four teams in the Adelaide Lightning and Melbourne Boomers.
First up, the UC Caps have their sights firmly set on meeting the fourth-placed Lightning on Thursday night, cautious never to get too far ahead of themselves and take it one game at a time.
Adelaide have recently had a bumpy run, now on their third straight loss including two 20+ point blow outs.
These losses were to the dominant Perth Lynx after back-to-back games in Round 13 and more recently to the Melbourne Boomers last week.
While it's not the run any team wants in the lead up to finals, Adelaide remain a championship contender and shouldn't be underestimated.
Alanna Smith will be a key threat, currently averaging 16.5 points and 9 rebounds per game, as well as captain Steph Talbot who is leading the league for assists.
Fortunately, Kelly Wilson and Alex Bunton will be back on deck after missing last round's game to avoid the potential of having to isolate in Perth with young kids.
Caps fans will hope to see Britt Sykes bring her offensive A-game again after putting up a thrilling 32 points last week as well as Kelsey Griffin who notched her fifth double-double of the season.
Griffin said that she feels good with the way her season has been so far.
"I've learnt a lot as a professional athlete and outside support is going to wax and wane so you have to have belief in your preparation as an individual and I know I've put in a lot of work both in my body and in my game to be able to compete at this level.
"Sometimes it comes my way and sometimes you have off games, but I'm not surprised by what I'm doing this season. If I didn't think that I could compete at this level, I would have stepped away a long time ago.
"What I will say is that I play my best basketball when I'm surrounded by good people and Goz has put together an incredible group. I'm really enjoying playing and I'm grateful for this experience at this point in my career."
As the margins separating the top four remain narrow, the UC Caps will leave it all on the floor to maintain their top ladder position as semi-finals tip off in less than a week.