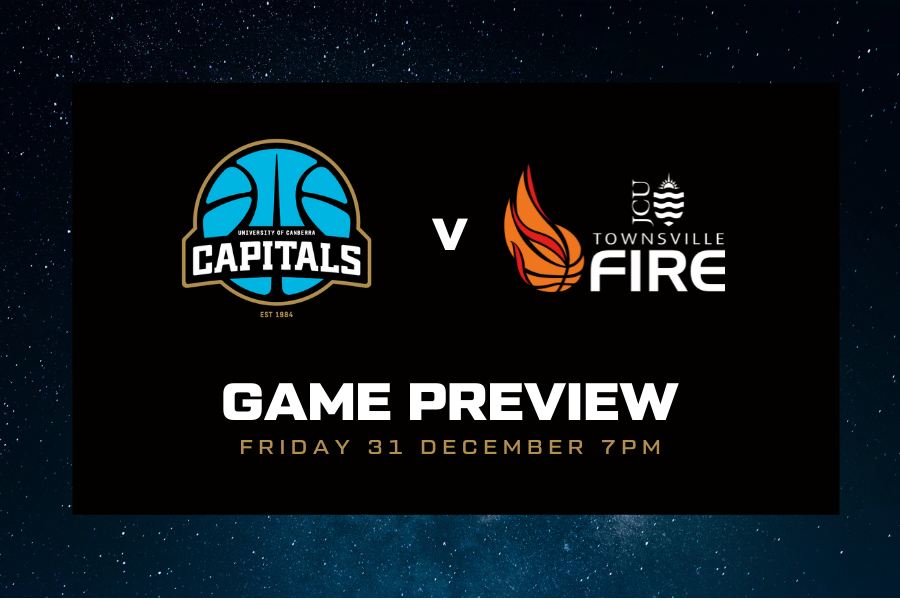 December 29, 2021 | UC Capitals news
When: 31 December, 7pm tip-off
Where: Townsville Entertainment Centre
How to watch: Kayo Free
The UC Capitals will look to close out the year with a win against the Townsville Fire and continue the momentum sparked last week.
The Fire sit second on the ladder but have an equal 2-1 record as the Caps, so Friday night's game will decide the true runner up of Round 5 behind league-leaders, the Melbourne Boomers.
The Capitals showed their resilience against a rocky start to the season from injuries to COVID scares, game cancellations and losing their Head Coach with a dominant win over the Bendigo Spirit.
It was the first game that captain Kelsey Griffin felt was a true reflection of what she has seen in training as she watched from the sidelines, still recovering from orbital and nasal fractures.
Alicia Froling said that energy was felt on the court, too.
"I thought we were up by like 30, that's how it felt. We were just all into it, we were all together and the ball was going through the hoop, so it definitely felt like one of those games where we were really comfortable."
In the capable hands of Assistant and now Acting Head Coach Kennedy Kereama, the UC Caps will need to show consistency and prove that style of play is characteristic of their season ahead.
Froling said that Christmas was a good opportunity for the team to have a break before regrouping ahead of this New Years Eve clash.
"We've had a lot thrown at us in the first two games, probably more than you would in a whole season. This was a good mental break, a good reset and hopefully, we all come out and continue the form we all showed in the Bendigo game.
"Running off some of that Christmas food was priority #1, and then just starting to gel as a team and going through sets. I'd say we are more focused on ourselves than Townsville."
The Fire are coming off their first loss of the season to reigning champs, the Southside Flyers. After leading the game by 18 in the first quarter and 13 at halftime, the Fire buckled under the Flyers defensive pressure in the second half, failing to keep up the points and losing 81-86.
To bounce back, the Fire will look to keep their 100% home record intact.
The Capitals will need to shut down Fire imports, Monique Billings and Sug Sutton, as well as Lauren Nicholson and Zitina Aokuso, all who have displayed their scoring power this season.
"We can't let them run up points like we did Bendigo. They are going to be a tough team for us but we can absolutely match up well against them and if we stick to our game plan, then we should be good," said Froling.
It's not all business in Townsville, though. The Froling family will host the team for belated Christmas celebrations as Alicia visits home for the first time since February.