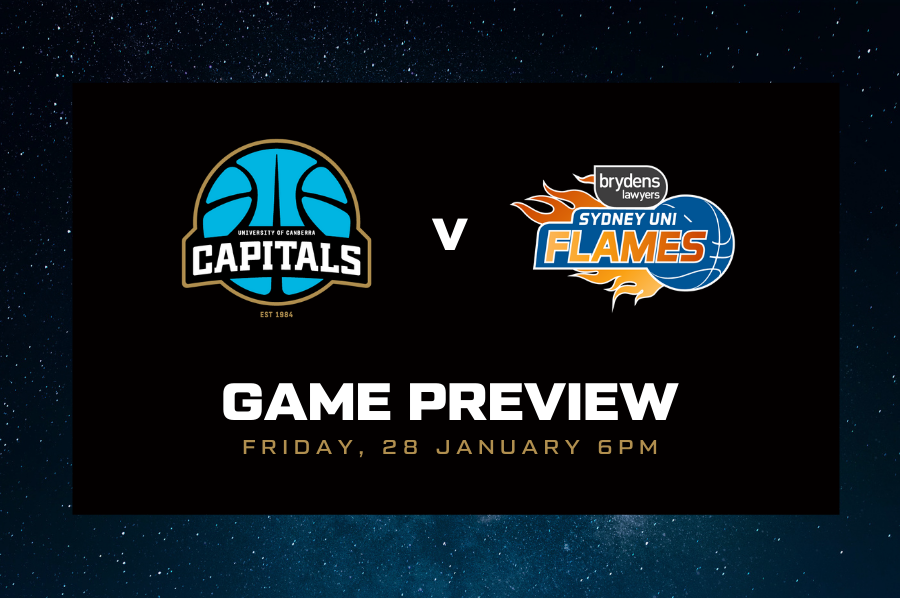 January 27, 2022 | UC Capitals news
When: Friday, 28 January at 6pm
Where: National Convention Centre Canberra
How to watch: live at the NCCC or via Kayo
The UC Capitals will face the Sydney Flames on Friday night for the first time since the season opener.
The Capitals have enjoyed their first full week back at training with Head Coach Paul Goriss, having completed his suspension and resuming coaching duties last week.
Despite coming off a win against Bendigo, the Caps have been at work on the small lapses that have cost them losses recently as the team aims to prove their consistency.
"We need to be able to roll with [all the disruptions] and be consistent and turn up the same team each game. We haven't been able to do that so far but we have two games this weekend and that's what we need to be able to produce," said Kelly Wilson.
Sydney have just notched their first win of the season after a two-week break forced by COVID-19 protocols.
They've had some changes in their roster since the last time the UC Caps played Sydney and Wilson acknowledges it will be a completely different match up.
"We're both two different teams. It was Round 1, the first game of the season, so I think it will be a completely different looking game. We've prepared for them like we would any other team. We've done our due diligence and scouting so that's all you can do to be prepared."
It will be a battle of the guards with Jade Melbourne up against her Opals squad teammate, Shyla Heal, and Britt Sykes getting her first look at Sydney's newly-announced import, Shaquita Snow.
Despite all of the drama that's happened between games, Alicia Froling isn't concerned with anything other than getting the win and one-upping her twin sister.
"I just think it's going to be like any other game, it's always going to be competitive. I think the biggest thing is playing against Keely for me. The other stuff has come and gone, so we just got to go out and play."
To purchase tickets to the game, click here.
To view the game day program, click here.