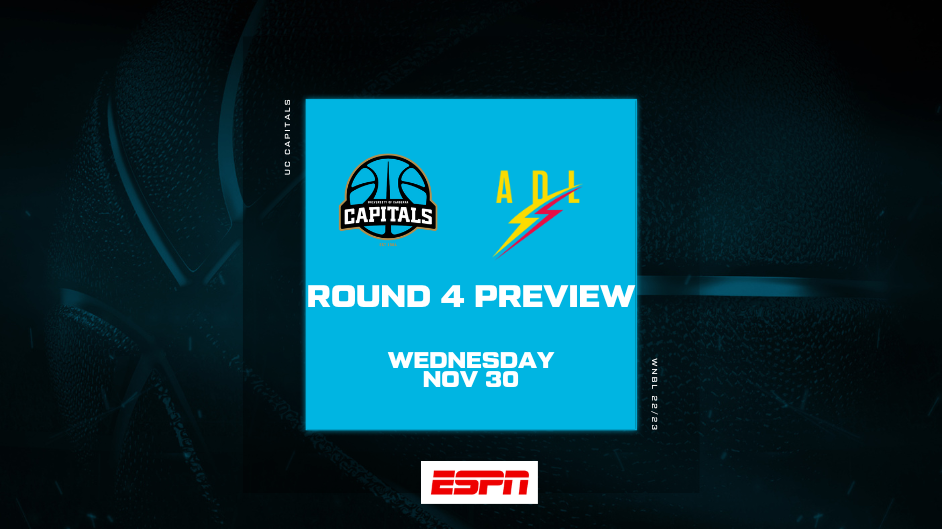 November 30, 2022 | UC Capitals news
When: Wednesday November 30, 6.30pm AEDT
Where: Adelaide Arena
How to watch: ESPN
A new starting line-up will take to the court on Wednesday night, when the UC Capitals play Adelaide Lightning in Round 4 of the WNBL.
After a FIBA window break and a tumultuous week within the Caps camp, Head Coach Kristen Veal is proud of the way the team has handled itself.
"We have had four sessions since that FIBA window reset and we are absolutely committed and we are enjoying what we're doing with a renewed focus and a goal of being 10% better every time we step on the court," she said.
"There's still an adjustment of positions, with Jade coming back in, Dekeiya out, somebody new is going to come into the starting line-up, someone who hasn't had a lot of minutes."
The team is looking at it as opportunity. Opportunity to give those younger players some solid minutes on the court and provide them with invaluable experience.
Up against Adelaide, who are one win and three losses in, the Caps are up against former fan favourite Abby Cubillo as well as Steph Talbot, Marena Whittle and Lauren Mansfield who will be bringing the heat.
This will also be the first time former Caps players and first time WNBL coaches in Nat Hurst and Kristen Veal meet.
"Adelaide's a tough unit. They're an undersized team but the way that they play, the aggression, commitment and their never say die attitude is going to be challenging for us and a great test.
"For us, it's not hanging hats on wins and losses. It's how can we be better, can we perform for 40 minutes and then how can we set ourselves up for the games post Adelaide."