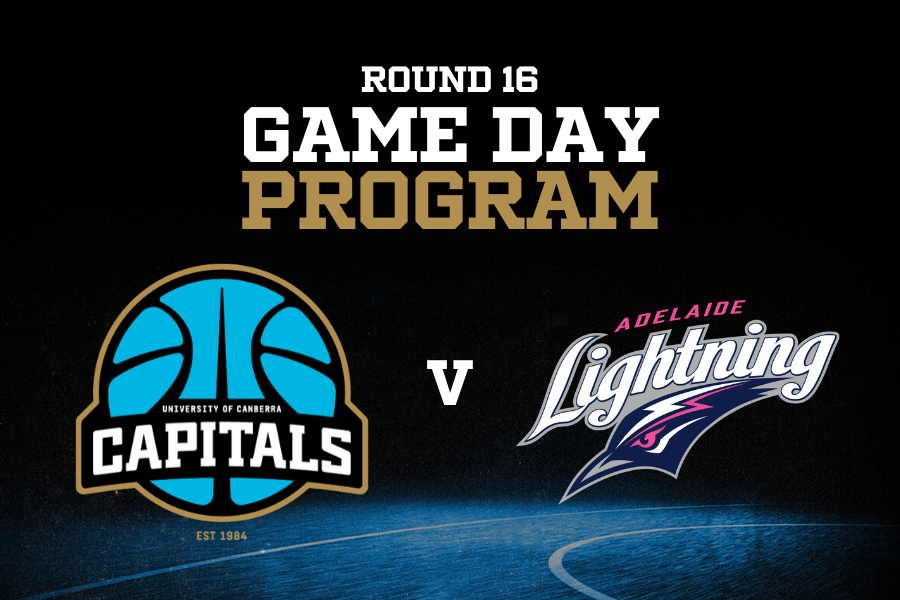 January 31, 2020 | UC Capitals news
UC Capitals V Adelaide Lightning
Saturday, 1 February
5pm tip-off 
NCCC
Tickets: click here.
Game Day Program: click here.
Watch live: click here.
Live stats: click here.
—
The last game of the 2019-20 regular season is here, and while the top four teams are certain, the ladder is not.
The UC Capitals will play the Adelaide Lightning and as much as this game is about a championship rivalry and what could well be a grand final preview, it's also the Capitals' final battle with the Melbourne Boomers for home-court advantage.
The semi-final series will be between 1 v 4 (the Southside Flyers and the Lightning) and 2 v 3 (the UC Capitals and the Melbourne Boomers).
The Caps and the Boomers remain equal in wins and losses, but since the reigning champs have the series split over the Boomers, the Caps currently hold the advantage.
So, here are the possible outcomes:
Both the Capitals and Boomers win or lose their Round 16 games, and Canberra will secure a home semi-final series
The Capitals lose and Melbourne win, and Canberra will drop to third and Melbourne takes the advantage
The UC Capitals last played the Adelaide Lightning in Round 11 on the road, not long after Kelsey Griffin was ruled out with her ankle injury. Despite going to overtime, the Caps ultimately fell by 10 points.
However, the Caps will be at home where they're notoriously tough to play having only lost one game in Canberra so far this season.
Keely Froling will make a return after a broken nose and fractured cheek two weeks ago and Kelsey Griffin will continue to work back up to her usual minutes.
Round 16 is also a double-header for the Lightning, who are coming off a win over the Perth Lynx on Thursday night. It's not all good news for Adelaide, though. Nicole Seekamp hurt her ankle in the game, and it is currently uncertain how severe the injury is as she awaits scans, but it may mean she won't play on Saturday.
This will also be the final regular season game for Natalie Hurst, who played for the Capitals for over a decade and was a part of the club's seven of eight championship teams. After the Lightning's season ends, Hurst will retire and return to Canberra for a coaching gig with the Canberra Nationals.
With the two-week FIBA break before playoffs, Paul Goriss, Marianna Tolo, Kia Nurse and Olivia Epoupa will all depart after the game to meet their national teams ahead of the Pre-Olympic Qualifying Tournaments in Europe.
Let's turn it up and support the UC Capitals as they fight for the home advantage for the semi-final series!