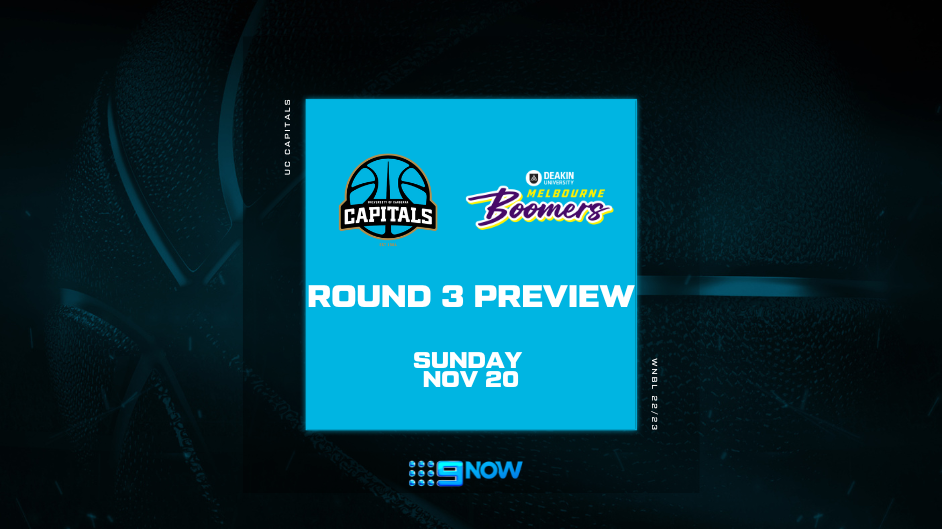 November 20, 2022 | UC Capitals news
It will be a Sunday showdown between the UC Capitals and Melbourne Boomers this weekend, as the Caps get on the court for their third away game in a row.
Up against the reigning Champions, the Caps know they'll have their work cut out for them but that's exactly the type of challenge they're ready to rise for as they fight for their first win of the season.
"What we're trying to do this week is get a little better defensively and if we can do that against a side like Melbourne then we should walk away pretty pleased with ourselves," Head Coach Kristen Veal said.
There will be a few fun match ups that will keep fans entertained, including the Sparks duo in Rae Burrell and Olivia Nelson-Ododa and former college co-captains Dekeiya Cohen and Kristy Wallace.
Kristen Veal has previously said that before players become big dogs, they're little dogs and the Caps have invested in several up-and-coming stars.
"There's some silver linings from our unfortunate start, and Swainy is one of them. She's been awesome and I think this is a real coming of age for Swainy. Sherrie is doing an incredible job, Bunts is getting more opportunity, our imports are only going to get better. There's just so much opportunity for everyone and that's what has really banded us together.
"We're going to get a win, we're going to have success. The lesson for us is we have to do the work, we have to invest in the process to earn that and I think we're learning that lesson."
With a very similar starting five expected, Jade Melbourne will also be travelling with the team, as part of the leadership group.
"She's been an absolute pro, from the time that she hurt it, to being in a boot, to her progression to straight line basketball work on the court," Veal said.
"She'll come with us, as that leadership, morale boost and to make sure she's staying in touch with the group and with basketball.
"All going well maybe she'll be back for Adelaide but if she's not there, we're not going to risk her future and her season for one game."
The game tips off at 3pm on Sunday, November 20.