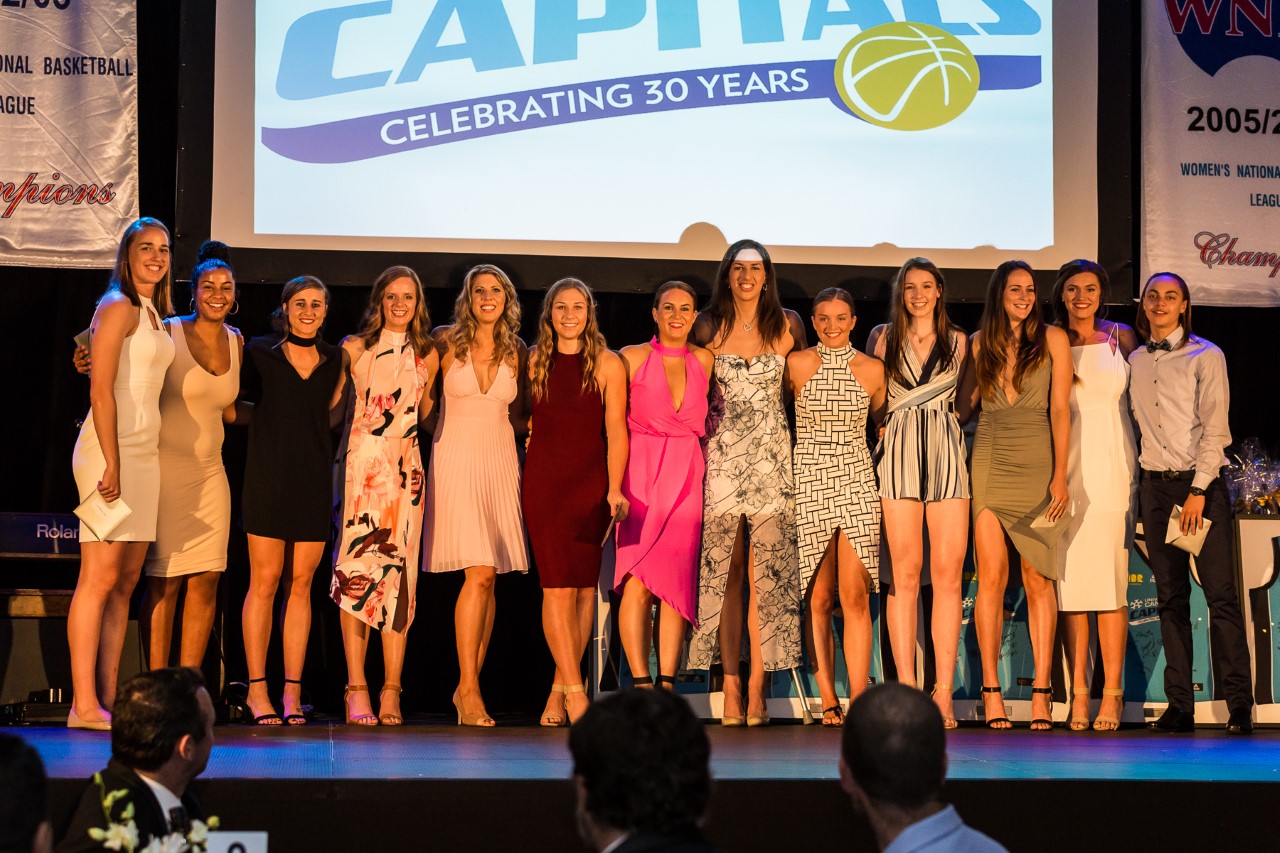 March 3, 2017 | UC Capitals news
The UC Capitals concluded their 2016/17 campaign with their end of season awards night. Despite falling just short of a finals appearance, it was it was the UC Capitals most successful season in six years and gave a clear indication that the team who finished with just two wins throughout the entire season before is on the rise. Below are the list of award winners on the night:
Most Valuable Player: Marianna Tolo
After a five year absence from the Capitals after playing abroad in Europe and the USA, Marianna Tolo's return to Canberra gave the fans a sense of optimism about the upcoming season. And she didn't disappoint. She averaged 18.1 point per game (third highest in WNBL), had a field goal percentage of 0.56 (the most of any player who played more than half the season), averaged 8.5 rebounds per game (third highest in WNBL) and had a free throw percentage of 0.85. On top of this she made the WNBL Team of the Week eight times, was Player of the Week twice and was November's Player of the Month.
Defensive Player of the Year: Marianna Tolo
After becoming the first Capitals player to win the WNBL's Defensive Player of the Year earlier this week it was no surprise to see Tolo take out the same award for her club. She averaged 2.4 blocks (second highest in WNBL) and 5.5 defensive rebounds (third highest in WNBL) per game, while also accumulating 23 steals, the third most on the UC Caps roster.
Fan Favourite: Kate Gaze
In her first season with the UC Capitals, Kate Gaze claimed the inaugural Fan Favourite award. Voted by the supporters, Gaze's superb shooting, work ethic and friendly personality earned her a lot of love from the people in the stands. Her standout games for the season included her 18 point performance against her old side Townsville, in round seven that earned her a team of the week nomination and another 18 point game against Sydney Uni in round 13 where she scored six from six from the three point line.
Players' Player: Carly Wilson
The Players' Player award is given to the player who shows the most dedication, leadership and club spirit. After 18 seasons in the WNBL, Carly Wilson announced 2016/17 would be her last, but this award showed that Wilson's unwavering passion and love for the game still burned brightly in her final year. She finished her career on 363 games, the seventh most in WNBL history.
Capital on the Rise: Abbey Wehrung
In her third season with the UC Capitals, 21 year old Abbey Wehrung proved to the league that she was a star in the making. After returning from injury in round seven, Wehrung slowly began to find her rhythm and provide a headache to opposition coaching staffs. As the season went on, she found herself in the starting five for the UC Capitals, a testament to her effort and dedication. Round 18 against Bendigo was a bittersweet match for Wehrung. Her first half was electric for the UC Caps as she spearheaded them to a strong lead, scoring five of six three point attempts. However, after a hard foul at the start of the third quarter she was sidelined for the with an ankle injury that would see her miss the rest of the season. Despite playing just 21 minutes in that match, she was the game's leading point scorer with 18 and was named in the round 18 Team of the Week. By Aaron Palazzo Photo credit: 5 Foot Photography